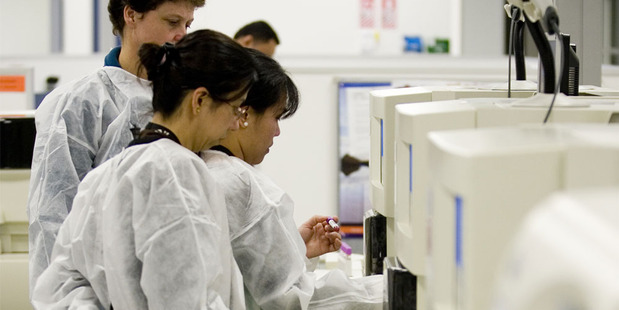 The Government wants businesses to double their spending on research and development as part of its plan to grow the economy but even reaching that target would leave New Zealand languishing below the average for developed countries.
Prime Minister John Key and Economic Development Minister Steven Joyce this morning presented the second of the six government progress reports on its Business Growth Agenda.
Following on from the ambitious target set in last week's first report to lift exports, this morning's document outlines a plan to "encourage the business sector to double their expenditure on research and development (R&D) to more than one per cent of GDP".
Business currently spends the equivalent of 0.54 per cent of GDP on R&D and the Organisation for Economic Cooperation and Development' (OECD) average is 1.62 per cent.
Mr Joyce also said the Government intended lifting its own spending on R&D from 0.6 per cent to 0.8 per cent.
Across the private and public sectors New Zealand currently spends about 1.3 per cent of GDP on R&D compared to the OECD average of 2.4 per cent. Achieving the Government's targets would lift New Zealand's spend to about 2 per cent.
Mr Joyce said the Government would lift private sector R&D investment through new co-funding tools.
"We are investing $115 million a year in TechNZ co-funding programmes with companies and so far nearly $300 million alongside business in the Primary Growth Partnership."
Mr Joyce said the benefit of those programmes was they resulted in new R&D expenditure rather than encouraging businesses to reclassify existing spending as new money
That is the charge the National Government levels at Labour's R&D tax credit scheme which it canned after winning the 2008 election.
Mr Joyce said the Government's new Advanced Technology Institute, which is to be named after the late scientists Sir Paul Callaghan, would also help lift private sector R&D spending by "improving the New Zealand business incubator model, and encouraging multi-national firms to invest in doing R&D in New Zealand".
BusinessNZ chief executive Phil O'Reilly said there was strong support in the business community for the Government's "systematic approach to building innovation" and the Advanced Technology Institute "will be a connector between business, science and research here and overseas, and is a centrepiece of the innovation policy".
Green Party co-leader Russel Norman said this morning's report had "yet again ignored the critical role green innovation will play in transforming our economy onto a more sustainable footing".
While the report identified key problems in our innovation economy it "simply repackages old ideas that have left New Zealand investing less than half the OECD average on R&D" said Dr Norman.
"Four years in government and National is failing to lead the innovation step change the New Zealand economy needs."