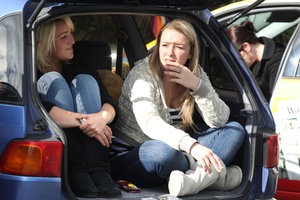 A Waihi man was too emotional for words and instead could only give a loving hug when his son surfaced with 27 fellow miners who spent yesterday morning trapped underground in the wake of a fire.
An emergency that begun when a 35-tonne dump truck engine caught fire at 5am - forcing the evacuation of Newmont Waihi Gold's underground Trio mine at Waihi - ended after a wait of several hours as the first of the trapped miners were successfully evacuated at mid-morning.
Billy Nice, an electrician who works alongside his 24-year-old son Alvin Nice with HWE Mining, was on his way to work yesterday when he was told of the incident - and that his son was among those in protective safety refuges within the mine.
Mr Nice last night told the Herald that although concerned, he was confident his son, who works in an explosive charge crew, would be okay.
Thirteen miners surfaced at 10.30am before the others, who had been trapped in a rescue chamber deeper in the mine, were brought out at noon.
"Of course I was thinking about it, but I knew he was in good hands ... I'm really confident of the guys, they know what they're doing," Mr Nice said.
Mr Nice said he was speechless when he was reunited with Alvin as he emerged from the mine portal.
"I couldn't talk ... it was emotional ... I didn't say a word, honestly, I couldn't say anything."
The workers were cheered and shared handshakes as they returned to Newmont Waihi Gold's offices in "good spirits", Mr Nice said.
"They were chilling out, playing cards and joking in good spirits - they were quite relaxed about it."
But Newmont underground manager Charlie Garwith, who was involved in the rescue response, could not downplay the incident, which was being taken "incredibly seriously".
The fire was the second vehicle-related incident to happen at the Waihi mines in a week.
Last Wednesday a 777 haul truck operating in the Martha Open Pit mine in Waihi tipped backwards after being loaded up with rock.
The driver from the cab had to be freed by the mines rescue team and the company has launched an investigation into what happened.
The truck involved in yesterday's emergency had burned out while rescue teams sought to get to the trapped men, Newmont operations manager Glen Grindlay said.
"We opted to go for the personnel first and worry about fire later."
Aside from one man who was briefly treated for smoke inhalation, there were no injuries among those rescued.
Investigations into the incident were being carried out by Newmont, the Department of Labour and the Ministry of Business, Innovation and Employment's high hazards unit.
The unit's general manager, Brett Murray, said it was important to note the site was not a coal mine. "It is a hard rock mine and the explosive risk, other than from the burning vehicle itself, is almost non-existent."
Unit inspectors, who found no issues when they last visited the mine in February, coincidentally were due to conduct another audit there today, following up recommendations made in the aftermath of the 2010 Pike River Mine explosion which killed 29 men.
Yesterday's incident sparked new calls to bolster safety regulations, with the Engineering, Printing and Manufacturing Union recommending the adoption of Queensland practices which include the workers' election of an independent safety representative to signal the alarm in emergencies.
Hauraki Mayor John Tregidga said that like the community and miners, he was waiting for the outcome of the Department of Labour investigation into what caused the vehicle fire.
- Additional reporting: Nikki Preston