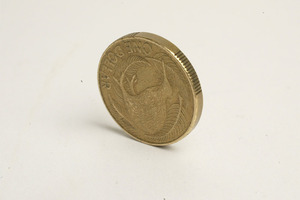 The New Zealand dollar gained as investors were more upbeat after better-than-expected second-quarter earnings from investment bank JPMorgan & Chase, stoking appetite for higher-yielding assets.
The New Zealand dollar rose to 79.67 US cents just before 8am up from 79.51 cents at the close of trading in New York. The kiwi rose as high as 65.11 euro cents, the highest the single currency has traded since it entered circulation in 2002, trading at 64.96 cents at 8am up from 64.87 cents.
JPMorgan led stocks on Wall Street higher, rising 6 per cent to US$36.07 after the investment bank reported net income of almost US$5 billion in the three months ended June 30, even as its chief investment office posted trading losses of US$5.8 billion.
The Standard & Poor's 500 rose 1.7 per cent to 1356.78, while the Dow Jones Industrial gained 1.6 per cent to 12,777.09, as the bank's result bolstered investors' appetite for higher-yielding assets. The Thomson Reuters/Jefferies CRB Index, which measures the price of 19 raw materials, rose 1.3 per cent.
"Financial markets ended the week on a high," said Mike Jones, market strategist at Bank of New Zealand. "Indicators of risk aversion eased, commodity prices rallied, and bond yields inched off their lows," lifting demand for assets including the kiwi dollar, he said.
Jones said the kiwi is likely to finish the week lower, trading in a range of 78.50 US cents to 80.80 cents.
Investors will be looking to US Federal Reserve Chairman Ben Bernanke's testimony to the House of Representatives on Tuesday and Wednesday for any clues about the potential and timing for further easing to lift the pace of growth.
"Every man and their dog have their hopes pinned on Fed easing," Jones said.
In New Zealand the BNZ-Business NZ Performance Service Index is set for release today.
The New Zealand dollar rose to 77.79 Australian cents from 77.66 cents at the close of trading in New York. The kiwi climbed to 51.17 British pence from 51.05 pence. It gained to 63.17 yen from 62.93 yen. The trade weighted index was little changed at 72.39 from 72.35.