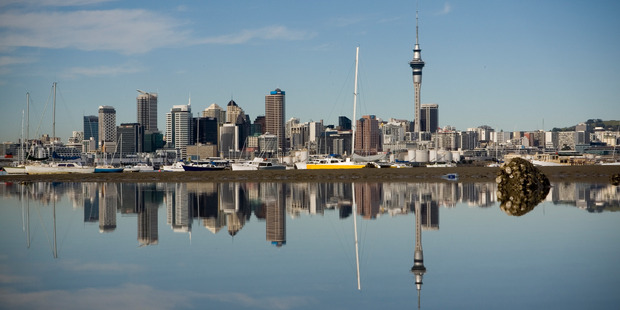 Auckland businesses have enjoyed two consecutive quarters of sales growth for the first time since the onset of the global financial crisis, but are becoming increasingly pessimistic about the chances of a short-term economic recovery, a survey says.
According to the latest MYOB Business Monitor, which canvassed 1000 small and medium-sized companies across the country in May and June, firms in New Zealand's biggest city have seen steady sales growth over the past few months.
A net 2 per cent of Auckland companies reported falling sales last September, but by April a net 7 per cent were reporting increased revenue, rising to a net 11 per cent in the latest survey, MYOB said.
Julian Smith, New Zealand general manager of the accounting software provider, said it was the first time since the recession that the survey had shown two consecutive quarters of sales growth for Auckland businesses.
"Auckland has been something of a quiet performer, slowly finding a path back to growth over the last few months," Smith said.
"With higher revenue expectations and solid growth, the region is currently on a much stronger footing [than previously]."
However, Auckland Chamber of Commerce chief executive Michael Barnett said he did not believe there was any recovery taking place in the city's economy and firms were still finding the going very tough.
"I think if there's a move in revenue growth it's small," said Barnett. "The reality is businesses have prepared themselves for a recovery that hasn't arrived."
NZIER principal economist Shamubeel Eaqub said the MYOB survey and other economic indicators suggested Auckland was "doing okay".
"It's not going gangbusters or anything like that but it's certainly doing better than a lot of other parts of New Zealand," Eaqub said. "Auckland's like the economic engine of New Zealand so if Auckland is doing well that's a really positive thing."
Smith said one of the key segments of the Auckland business community driving sales growth was sole traders.
The survey said a net 15 per cent of such businesses experienced revenue growth over the past year.
"Sole traders are often the last to see the benefits of economic growth and it is heartening to see they are now sharing in Auckland's recovery," Smith said.
MYOB said the best performing Auckland sector in the survey was property and professional services, with a net 28 per cent of firms reporting increased sales over the past year.
Manufacturing, one of the largest employers in the Auckland region, was the second best performing sector, with a net 12 per cent of companies reporting a rise in revenue.
Some sectors in Auckland continued to struggle however, including agriculture and fisheries, of which a net 26 per cent of firms reported falling sales. A net 19 per cent of businesses in construction and trade reported a drop in sales, while MYOB said retailers were also reporting volatile trading conditions, with a net 3 per cent reporting a fall in revenue in the past year.
A slowing Australian economy and unstable economic conditions across the globe meant Auckland's exporters were facing difficulties, with a net 15 per cent of export businesses reporting falling revenue over the past 12 months, Smith said.
Eaqub said the fall in revenue for exporters was disappointing but not surprising given the state of the global economy and the strength of the New Zealand dollar, which was trading at around US79c against the greenback on Friday afternoon.
Continuing international economic volatility was making Auckland businesses increasingly pessimistic about the chances of a short-term economic recovery, MYOB said, with just 17 per cent of firms expecting such a recovery in the coming year.
In the previous survey, published in April, Aucklanders had been the most optimistic of the main centres, with 21 per cent expecting the economy to improve within 12 months, compared with 20 per cent in Wellington and 13 per cent in Christchurch.
Smith said: "We're seeing real concern from Auckland business owners that the gains they have made could be put at risk by developments in the international economy, but it is very heartening to see two consecutive quarters of revenue growth."