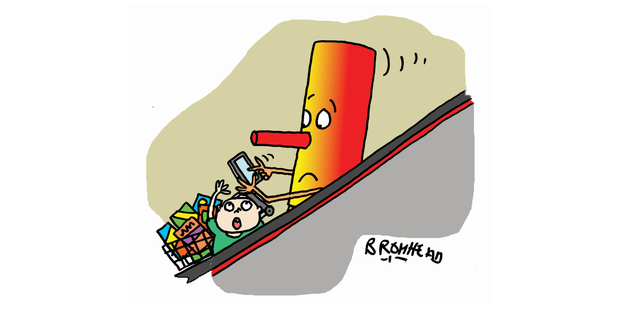 "Amazing!" said an old acquaintance from the South Island, "we thought you were long dead."
Disconcerted that some believe I don't exist anymore, I consulted my team of highly trained psychotherapists for advice.
"You need to up your profile on Twitter and Facebook," they chorused, assuring me that by creating regular commentaries on Facebook, I will exist once again.
In return I'll receive a bevy of responses, confirming that we're all one big happy cyber family with lots of reassuring electronic bonding to ease any wobbly thoughts on my existence.
"What do I write?" I asked. "Simple, intelligent stuff that the whole world wants to know," the brain-trawlers suggested. "Such as what brand of marmalade do you spread on your breakfast toast, or even more profound statements like, 'I'm wearing brown shoes today'."
Enthused by their advice, I reopened my dormant Facebook platform.
Having a peep through various friends' pages, I was impressed with one update by a fellow hack who stated: "was going down escalator thing at 277 with my trolley full of groceries with small child with the wheels locked so you can't really speed up. Was a bit taken aback when some woman behind me who obviously is frightfully busy and important and can't wait for the several seconds it takes to travel down the travelator at its normal speed, pushes my child out the way so she can get past me to gain a fraction of a second in getting to her car."
I immediately thought, if this astute lady can flick out commentaries on a moving escalator, then I need to test my ability to match her communication skills.
Accompanied by my seven-year-old and a trolley full of groceries, I faced the hazards of the same escalator, complete with an iPhone opened on Facebook.
I descended the escalator a number of times into the car-park, but only managed three words: "am going down ..." Sadly, I than gave up, forlornly accepting that writing instant updates on the move is - like my existence - a bit marginal.
This reality check was not helped by the nagging child, who believes he has sole proprietary rights over my iPhone to play some game called Angry Birds and who failed to understand why we neurotically repeated going up and down the same escalator.
He suggests that Angry Birds is a lot more fun than the game I've been playing lately, called Grumpy Old Man.