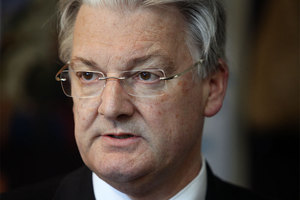 United Future leader Peter Dunne has labelled the Government's decision to allow a commercial radio operator to continue to broadcast on a public frequency as the "ultimate insult" to those who supported TVNZ7.
Public channel TVNZ7 went off air at midnight on Saturday, after the Government decided to cut its funding.
Yesterday, a contract allowing MediaWorks to broadcast Kiwi FM - which plays 60 per cent New Zealand music - on a public frequency was renewed for another six months.
Mr Dunne, who has been vocal in his support for TVNZ7, told Radio New Zealand the two events happening at the same time was "not just the ultimate irony, it is also the ultimate insult".
The decisions were "inconsistent", he said.
Mr Dunne said it showed the Government had not taken seriously the large group of people backing a campaign to save the channel.
"I think that they saw them as just being an elitist, self-obsessed group, when in actual fact they were a large number of New Zealanders speaking out for a role in having a decent public broadcasting system in the future," he told Morning Report.
"They will feel outraged and insulted by this turn of events."
Mr Dunne said he was upset the channel was now off air, and the decision not to continue funding the public service was "short-sighted".
TVNZ7 cost the Government $16.25 million annually, and screened shows such as Back Benches, Media 7 and the Court Report.
It has now been replaced by TV One Plus One, which airs a one-hour delayed broadcast of TV One.