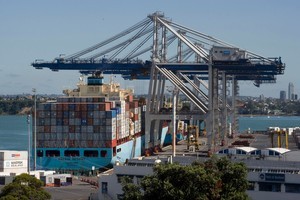 New Zealand's trade surplus narrowed in May, as expected, as imports rose faster than exports, widening the annual deficit.
The monthly surplus was $301 million last month, down from a revised $335 million in April, according to Statistics New Zealand. That's in line with the $300 million surplus forecast in a Reuters survey. The annual gap widened to $810 million from $790 million.
The value of the nation's biggest exports, dairy and meat, have declined in line with weaker global prices for farm commodities. Exports fell to $4.42 billion in May from $4.62 billion in the same month last year, while imports rose to $4.11 billion from $4.07 billion.
"This trade balance deterioration is the driving force behind our expectation for a further widening in NZ's current account deficit, with it forecast to reach 6 per cent of GDP by the end of the year," said Philip Borkin, economist at Goldman Sachs.
Meat exports showed the biggest decline, falling 13 per cent from a year earlier. Milk powder, butter and cheese declined 6.2 per cent and forest products declined 19 per cent. Crude oil exports fell 20 per cent.
By destination, Australia, the nation's biggest market, took in 11 per cent less of New Zealand's exports while shipments to China rose 7.1 per cent and those to the US gained 7.7 per cent.
The trade surplus in May amounted to 6.8 per cent of exports, down from 12 per cent of exports in May 2011.