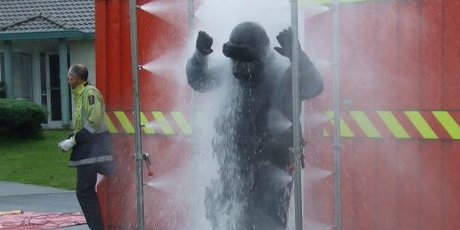 An Auckland company is preparing to take its clever, methamphetamine lab-detecting technology to the world.
The manufacturing process can be highly toxic and rental property owners have faced cleanup bills running into tens of thousands of dollars.
But Pakuranga-based MethMinder claims to have developed the perfect weapon to combat landlords' concerns.
It's a little white box, which can be installed in properties and detects the telltale gases emitted when a batch of meth is being cooked up.
Connected to the Vodafone mobile network, MethMinder units alert landlords if the drug is being manufactured on their property or if a tenant is tampering with the device.
MethMinder has been on the market in New Zealand for a couple of years and brand manager Miles Stratford said the company was preparing for global expansion, with plans to launch the device in Australia this year and the United States as early as next year.
"The estimates are that in the US there's about two million houses that have been affected [by meth]," he said.
Stratford said MethMinder was the brainchild of the company's founder, Ken Hetherington, who got the idea after some meth cooks moved into his friend's rental property in Wanaka, resulting in a $35,000 decontamination bill.
Stratford said the company did not want to disclose how many devices had been installed in properties around New Zealand, but conceded it was "not enough".
MethMinder's website, citing statistics from the National Drug Intelligence Bureau, says more than half of meth labs are discovered in rented accommodation.
Stratford said decontamination bills usually ranged from $30,000 to $50,000 and in a worst-case scenario a property could become so contaminated it had to be pulled down.
Of course, the company stands to benefit from quoting such statistics.
But Stratford said there was still a lot of complacency among landlords over the meth lab issue.
"If you can ignore the issue, then you will - that's the way people are," he said.
Stratford said there had not been any meth labs discovered as a result of a MethMinder notification to date.
The lack of notifications could have something to with the fact that MethMinder recommended landlords warn their tenants the units were installed in a property before they moved in, he said.
However, he said there had been notifications resulting from people tampering with the devices.
Stratford said the company was preparing to release a new product - a test prospective property buyers could use to check if meth had been used or manufactured in a home.
A MethMinder unit can be leased for $59.95 per month, which includes monitoring, for a 12-month minimum term.
By Christopher Adams

Email

Christopher