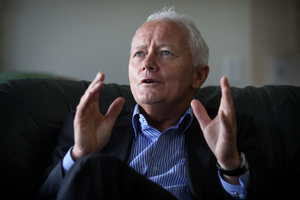 Auckland Chamber of Commerce chief executive Michael Barnett. Photo / Natalie Slade
Business confidence in New Zealand's biggest city has plummeted over the past three months, a survey says.
The Auckland Chamber of Commerce's Business Confidence Survey, which canvassed 900 respondents in the city last week, found only a net 12 per cent of firms expected general business conditions to improve in the next six months, down from 22 per cent in February.
But in terms of confidence about their own business situation, 48 per cent of respondents expected an improvement, only slightly down on the previous quarter's result.
Auckland Chamber of Commerce chief executive Michael Barnett said the survey results highlighted a rising sense of caution among businesses, which were keeping an eye on global economic issues and responding to shrinking margins.
"Business is finding the market conditions continue to be challenging and they now need to look at other areas to make cost savings," Barnett said.
The survey said slightly more than a fifth of respondents reported they were finding it difficult to employ skilled staff, while most firms expected their investment in buildings and machinery to be the same or less in the coming year.
More than 17 per cent of companies expected interest rates or loans to rise in the next 12 months, down from 30 per cent in February.