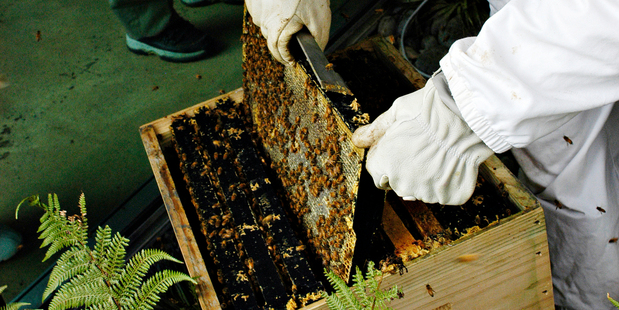 Private Equity fund Waterman Capital has made its third investment, buying a 20 per cent stake in Manuka Health.
Waterman, which was selected in 2010 to manage $30 million on behalf of the New Zealand Superannuation Fund, has ploughed several million dollars into the company and will take a seat on its board.
Waterman's Chris Marshall said the company was appealing because it was involved in both healthcare and food.
"Those elements make it a good space to be in."
Marshall said manuka honey was unique to New Zealand and the company was already internationally successful, selling its products to 45 countries. He hoped the investment would increase the number of countries it could export to and contribute towards its research and development opportunities.
"There is quite a lot of scope for growth."
Waterman has already invested in Working In and Healthcare Holdings and will take another few years to fully invest its $83 million fund.
BARGAIN BUY
AMP Capital has taken advantage of a slump in Chorus' share price to increase its stake above 10 per cent.
AMP received permission from the Crown to buy up to 15 per cent of the company last week but wouldn't say how much it intended to purchase.
A substantial shareholder notice out this week reveals the fund manager has increased its stake from 8.96 per cent to 10.214 per cent.
Shares in Chorus slumped last week after the Commerce Commission released a draft ruling on the pricing for competitors to use its copper line network.
Before the announcement shares were trading at $3.57 but within two days of the news they fell 43c to $3.04.
Brokers believe investors fled the company over a misinterpretation of the Commerce Commission's decision which appears to have been fairly immaterial to Chorus. Shares have since bounced back and yesterday closed on $3.20.
OFF TO OZ
Insured Group, the company which back-door listed on the stock exchange through Lombard Finance, is to depart the NZX for the Australian Securities Exchange. Shareholders voted on Wednesday in favour of de-listing and raising money through a public offer of shares. But the resolutions only passed by a slim majority.
The company has said it needs to raise A$2.25 million to continue as a going concern. Insured Group has been thinly traded since it listed and has also received two fines for breaching NZX listing rules.
The company hopes it will fare better in the lucky country. Shares in Insured Group closed steady at 4c yesterday.
DOWN TO EARTH
The finance industry held its annual black tie awards dinner at the Langham Hotel on Wednesday night.
The glittering INFINZ awards attracted a record turn-out of 754 guests in their finery.
But one award winner was quickly brought back to reality.
Stepping up to receive the best analyst award UBS' Tristan Joll said he had received a text message from his wife who was at home looking after their three young children. He thought she would be asking if the winner had been announced yet but instead she was reminding him to take out the rubbish when he got home.
Joll said he would be doing his domestic duties but not until at least 2am or 3am when he planned to get home.
BIG NIGHT OUT
Several others also made reference to the likelihood of a big night out.
Milford Asset Management's managing director Anthony Quirk stepped up to receive the company's award for best equity fund manager for the third year in a row.
Quirk said despite the celebrations he expected the team to be in the office in time for the morning meeting the next day.
KordaMentha, which won the gong for best report, also used the evening to pump for more business with its spokesman telling the audience "don't forget to call us tomorrow - but not before breakfast".
Stock Takes imagines there would have been a few sore heads around town yesterday morning.
MORE AMBITION NEEDED
New Zealand companies are lagging behind the rest of the world when it comes to mergers and acquisitions made outside New Zealand, according to a report by Grant Thornton.
The international business report found on a global average 33 per cent of businesses planned to grow through cross-border acquisitions but in New Zealand only 24 per cent were looking outside their own backyard.
Grant Thornton's Martin Gray says New Zealand companies need to be more active in undertaking cross-border mergers and acquisitions if we are to fully capitalise on our intellectual property, our clean-green image and the other advantages we have as a country.
Gray says overseas companies are prepared to pay high prices for New Zealand businesses and rather than letting them be sold the country should position itself to make the most of its assets by building on them.
SOLID SALES
Briscoe Group posted another solid result this week, with first quarter sales rising 6.5 per cent, while profits tracked ahead of last year.
With the economy remaining subdued, other retailers must be scratching their heads and wondering how the firm - which operates Briscoes, Rebel Sport and Living & Giving stores - manages to sustain such growth.
The firm, run by the wily Rod Duke, reported an annual profit of $27.5 million earlier this year, up from $21.6 million a year earlier. But in a research note this week, Morningstar analyst Nachi Moghe said a big risk for Briscoe was a resurgence of The Warehouse as New Zealand's preferred homeware retailer.
The Warehouse is in the midst of a $430 million capital investment programme aimed at returning it to its former glory through improving the appearance of its stores, property development and new sites. Moghe said Briscoe had benefited from The Warehouse's poor execution over the past two to three years, but warned this could change if a turnaround at the Red Sheds was orchestrated.