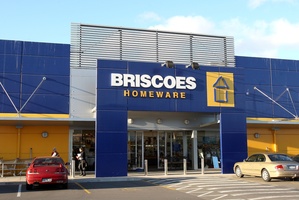 Retail chain Briscoe Group said its sales rose by 6.5 per cent in its first quarter and that its group profit was tracking ahead of last year .
Briscoe said sales for the quarter ended April 29 came to $102.5 million compared with $96.3m in the same quarter of last year.
On a same store basis, the group's sales for the quarter were up by 7.7 per cent, the company said.
The same store sales calculation excluded the six Living and Giving stores the group has closed within the last 12 months and also all Christchurch-based stores to reflect the inconsistent trading and disruption experienced during the first quarter of last year as a result of the February 2011 earthquake.
The company said its gross margin percentage was slightly ahead of the same quarter last year.
Sales for the group's homeware segment increased by 5.7 per cent to $66.1m, while sporting goods sales increased by 7.8 per cent to $36.4m.
On a same store basis, homeware sales increased by 8.5 per cent for the quarter while sporting goods sales were 6.2 per cent ahead of last year.
Managing director Rod Duke said the company had made a positive start to the current year.
"A strong sales and margin performance has enabled group profit to track ahead of last year," he said.
This is important in relation to our full year profit given the very strong second half posted by the group last year on the back of the Rugby World Cup.
Shares in Briscoe have traded strongly since hitting a 12-month low of $1.35 in January. They closed on Monday at $1.53.
Briscoe Group's net profit came to $27.5m in the year to January 29, up from $21.6m a year earlier.
- APNZ