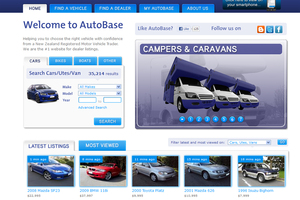 Trade Me, the online auction site controlled by Fairfax Media, has spent $11.5 million mopping up the three-quarters of auto-listing aggregator AutoBase it didn't already own.
The deal brings AutoBase under complete Trade Me ownership after nine years of an exclusive business arrangement and seven years since the auction company bought a quarter-stake in the aggregator, the Wellington-based company said in a statement. AutoBase aggregates listings from car, truck and boat deals, which are then displayed on Trade Me.
"This acquisition will allow us to consolidate the Trade Me motors business line,'' chief executive Jon Macdonald said. "It's business as usual for dealers except we'll have direct relationships with them.''
Earlier this month Trade Me said it will test Australian retailers' appetite for online sales into New Zealand in a venture with e-commerce software company ChannelAdvisor. The deal will let retailers from around the world list their products on Trade Me in time for Christmas this year.
Today's purchase will be funded through cash and settles today. The purchase price values AutoBase at 4.8 times its pre-tax earnings of $3.2 million and 6.7 times it net profit of $2.3 million in the 12 months ended March 31.
The shares rose 0.9 percent to $3.56, and have surged 32 percent from its listing price of $2.70 in November.