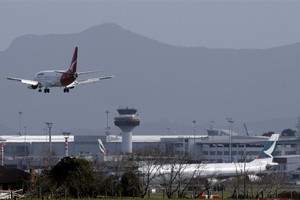 Auckland International Airport, New Zealand's biggest gateway, posted a 5.5 per cent increase in first-half profit on passenger growth and said full-year earnings would be "at the higher end" of its guidance.
Net profit rose to $69 million, or 5.22 cents a share, in the six months ended December 31, from $65.5 million, or 4.99 cents a year earlier, the company said in a statement.
Sales rose 8.9 per cent to $215.9 million, while expenses climbed 15 per cent to $54.5 million, which it said largely reflected work ahead of the Rugby World Cup.
The biggest single contribution to the gain in revenue was from retailing, where sales rose 13 per cent to $61.8 million. Revenue from airfield income, passenger services and terminal services charges combined rose 6.6 per cent to $95.5 million and the company flagged further increases to fund development of a new domestic terminal.
The airport company has diversified from its core Auckland airfield business, developing its land holdings to accommodate a hotel, retailing, offices and airport services, and investing in airports in Queenstown and Queensland.
Total international passengers rose 6.5 per cent to 3.96 million in the first half while domestic passengers rose 0.9 per cent to 3.13 million. January including the biggest week for international passengers ever recorded, it said.
Volumes through the airport are now pushing the capacity limits of the current domestic terminal, chief executive Simon Moutter said. The company has been looking at building anew domestic terminal, with a decision expected in the next few months, he said.
The existing domestic terminal, dating back 40 years, "is becoming increasingly inadequate" especially with the arrival of larger aircraft such as the Airbus A320. Providing the new infrastructure will represent "a significant investment that will affect airport charges."
Auckland Airport had previously flagged full-year net profit, before any one-time items and fair-value accounting changes, would be "in the $130 millions."
"We are firmly on track to meet the higher end of this guidance" subject to volatility in the global market, non-cash charges and adverse events, Moutter said.
The company will pay a first-half dividend of 4.4 cents a share, up from 4 cents a year earlier. The shares were last at $2.445 and have advanced 8.9 per cent in the past 12 months. Auckland Airport is rated a 'hold' based on the consensus of 11 recommendations compiled by Reuters.
The company's share of profits from associates -its holdings in North Queensland Airports, Queenstown Airport and Auckland Airport Holdings - rose about 220 per cent to $2.7 million
North Queensland sales rose 7.4 per cent to A$$57 million and earnings before interest, tax, depreciation, fair-value adjustments and investments in associates rose 16 per cent to $37.5 million.
Queenstown Airport sales rose 9.9 per cent to $8.5 million, while EBITDAFI rose 4.9 per cent to $6.2 million.