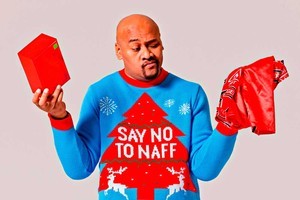 With an eye on the budget, Diana Clement offers some tips to avoid financial pratfalls this festive season.
A fool and his money are soon parted. And there's nothing like a bit of tinsel and piped Christmas carols to part man (or woman) from financial logic.
The loan sharks are doing a roaring trade giving people instant cash to fund outrageous Christmas spending. And even banks will make a small fortune on credit card interest from the festive season's financial hangover.
Most households spend hundreds, and sometimes thousands, of dollars unnecessarily at Christmas through a lack of forethought and social or family pressure. Or they're just blinded by panic: Aunty May is coming and I don't have a present.
The opportunity cost on that money is huge. It could add up to tens of thousands of dollars by retirement - enough to fund a round-the-world trip.
Here are 12 financial traps to avoid this Christmas.
1. Prices won't be beaten
This applies especially on Boxing Day. I nearly fell for this one last year. I'd grudgingly decided that I had to buy a wide-screen TV, because I could no longer read the subtitles on the foreign movies that I love to watch.
Temporarily parted from my own good sense I hit Noel Leeming, Harvey Norman and Bond & Bond last Boxing Day looking at televisions and was told: prices would never be that cheap again.
Fortunately I was so befuddled by the choices, that I gave up and jumped ship from the other crazed shoppers without spending any money.
Lo and behold I bought an even better value TV in a mid-year "never to be beaten" sale. Patience is a real virtue when it comes to the sales.
2. Extended warranties
The same high street stores make a small fortune out of selling extended warranties on all those goods that people don't need to buy.
Extended warranties are rarely claimed on. Even without them shoppers are covered by the Consumer Guarantees Act anyway.
3. Charity Christmas cards
Only a small percentage of the money spent on charity cards in high street stores goes to the charity itself. The rest is eaten up in manufacture, distribution, and retailer mark-up. If you want to support charities buy cards direct from the charity itself.
I guess if you're going to buy cards from a retailer anyway, or get corporate cards printed, then something is better than nothing when it comes to donations.
If there isn't enough of your money going to charity, buy cheap Christmas cards and make a donation of the savings to a charity.
4. Generic 'gifts'
'Tis the season for buying completely unnecessary gifts. It's wrong to say a throwaway present is better than nothing, says Oxfam's communications and media manager Jason Garman.
Instead of wasting money on unwanted gifts for giving's sake, buy a goat or some seed for someone in a poor country through Oxfam Unwrapped or a Unicef Inspired Gift.
5. High-street prices
There are some items that are almost always cheaper by mail order. That includes books and DVDs.
It's probably too late to have them delivered this Christmas from overseas websites such as Bookdepository.co.uk or CDWow.com, but you can always order them, print out the order or make a gift card and include it in a card at Christmas.
When I shopped this week, I noticed that both the stores mentioned above and also Next.co.uk (for clothes and some homeware) were offering free postage to New Zealand.
6. Christmas clubs
I have to defer to fellow journalist Paul Little who last weekend described hamper companies far better than I could. He said the companies work "by encouraging members of the underclass to pay a weekly amount which ... entitles them to a Christmas stocking containing a selection of gaudy crud".
To cut a long story short, I've done the research and it's much better value to save a sum of money a week such as $10 into the New World Christmas Club.
If it's the one-off delivery of goodies at Christmas that excites you, then save into a regular account during the year and do a single Christmas shop through Countdown, which delivers to most city dwellers' doors.
7. Fastpost
Unless you send your Christmas cards on December 23, send them with an ordinary 60c stamp on them. Fastpost doubles the price.
Unlike in the UK where "first class" and "second class" have added significance in the class-riddled society, you don't look like a cheapskate here for using standard post.
Likewise, when sending overseas it's cheaper to send mail and parcels before November 21-December 2 (depending on the destination) than if left later.
8. Short-dated gift cards
I was once horrified when Kmart tried to give me a voucher valid for just three months when I returned a Christmas gift. The item didn't work and had sold out, so no replacement was available.
I only found the three-month limit out by a stroke of good fortune.
Otherwise I would have thrown the money I spent on this gift away. After some argy bargy, the Kmart staff agreed to put the money back on my credit card. But it was a real lesson to me.
There was nothing in the store I needed to buy for that much within three months. Vouchers and gift cards are a great idea for Christmas presents because it allows the recipient to choose something he or she really wants.
Beware of the fine print and where the card can be used.
Unbelievably, for example, EB Games stores in Westfield malls will take Westfield gift cards as payment, but not Westfield vouchers.
9. Refund rip-offs
Don't take "no" for an answer if you want to return something after Christmas. If it has a serious fault, the shop needs to refund you. Some shops will try to limit you to gift vouchers, rather than a cash refund.
Check your rights if you don't want one. According to Consumer when you have the right to reject the goods, sellers cannot just offer a credit note. You're entitled to a refund.
10. Buying gifts for your workmates
Gift giving is an important social custom that bonds people together. There is, however, a point where gift giving just has to stop.
Are you going to give your neighbours a gift? The nice man in the dairy? Your cafe owner? Mechanic? Hairdresser? Beautician? And so on.
Leave the gift giving to the business owners and show you care for your workmates by giving them a card. Even better. Give them a hand-made card of your own making. You don't need to be artistic. I know.
I've been glue-gunning real live pohutukawa flowers to folded cards this week. It looks impressive and costs virtually nothing.
11. Providing XYZ for your party
This is New Zealand. Make your guests bring the food and drink. Anyone who thinks they need to feed and water their guests needs a friend transplant. Just say: "I'm way too busy, let's have a pot luck."
12. That you have to reciprocate when given a gift
Psychologically the giver benefits more than the receiver when gifts are exchanged. Once you know this, it's never necessary to return a gift out of obligation or to match the value of the gift. Anyone who expects a gift of similar value isn't much of a friend.