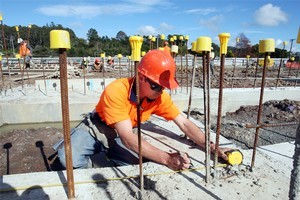 New Zealand building consents stalled in September with its first monthly decline in five eroding gains over the past two months.
The number of new dwellings excluding apartments authorised dropped a seasonally adjusted 14 per cent to 1,039 in September, and was down 17 per cent including the volatile apartments issuance, Statistics New Zealand said in a statement. The decline undoes the strong growth of the past two months as consents were approved for reconstruction in Christchurch.
"The extent of decline in building consents in September was disappointing," ASB economist Jane Turner said in a note. "The decline was broad based, with falls recorded in our seasonally-adjusted estimate of Canterbury dwelling consents, and throughout the rest of the country."
The prospects for residential and commercial construction have dimmed in recent months as continued seismic activity in Canterbury pushes out the prospect of an early rebuild in Christchurch, with exposed firms including Fletcher Building and tap maker Methven winding down their forecast earnings for the coming financial year.
ASB's Turner said the "most crucial aspect of the construction outlook is the timing and extent of earthquake reconstruction activity and the RBNZ (Reserve Bank of New Zealand) is not expecting this to pick up in any meaningful extent until mid-2012."
The value of non-residential building dropped 13 per cent to $320 million from September 2010, with the biggest decline in new hospital and nursing homes, followed by social cultural and religious buildings. The value of storage buildings more than doubled to $49 million in September.
ASB's Turner said the decline in commercial construction was in line with business confidence surveys, and suggests the recovery is continuing at a gradual pace.
The value of all building consents dropped 12 per cent to $717 million in the month, and declined 11 per cent to $8.51 billion on an annual basis.