Recruitment expert says New Zealand's 'generalist' workers will have to adapt, writes Gill South.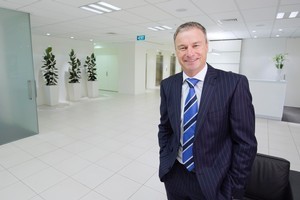 The global job scene is seeing a rise in demand for professionals with key specialties, says Robert Walters, the founder and CEO of the eponymous international recruitment firm, during a visit to New Zealand.
The job market here, known for its more generalist workers, will be adapting to this global trend, says the London-based CEO.
"In every sector, jobs are becoming more specialised and more complicated. HR used to be a generalist area, but if you are an employer like HSBC, you will have an HR department with eight in-house lawyers to deal with all the employment law issues. They have much more sophisticated services.
"If we are recruiting an in-house lawyer, we are looking for someone's subset of experience. It might be in employment law, international law or patent law in IT between America and the UK, for example."
Walters, who started his business in 1985 and floated it in 2000, was early to recognise that the job market was going to become global.
Robert Walters has 44 offices in 21 countries and the firm has added a consultancy services business, Resource Solutions, which operates contracts in Europe, Asia, Australia and the United States. The company's most profitable country is Australia, followed by Japan, says Walters.
The firm is also making inroads into emerging markets, including - surprisingly - Germany, which has been deregulated and become more inclusive to recruitment consultancies. Robert Walters has also opened offices in China and Sao Paolo, Brazil. Walters, who spends a lot of time travelling, is excited about the potential in Sao Paolo. "Brazil has the highest salaries in dollar terms for middle and senior executives. People move for an average of a 60 per cent salary increase," he says.
Inflation is running at around 20 per cent in the dynamic city of San Paolo, where the mining and energy sectors drive the economy.
Robert Walters offices recruit across professions, including accounting, finance, banking, IT, human resources, legal, sales and marketing.
"The big elephant in the room has been engineering and supply chain logistics, which we don't really do," says Walters. But the company plans to expand its involvement in these sectors. Alternative energy projects and oil and gas projects in areas like Greenland are triggering a demand for problem-solving engineers.
"There's all this talk about energy," says Walters, who is taking advice on the company's next move from Robert Walters' chairman, Australian Phil Aiken, the former group president energy of BHP Billiton.
Robert Walters New Zealand is looking at the engineering sector with interest, says Richard Manthel, Robert Walters NZ managing director. "It's something very much on the radar. There is going to be huge demand for engineers in the next five years, with Christchurch and the broadband roll-out."
Telecom and its suppliers are major employers in the sector.
Engineers will often have international careers. Their qualifications are universally recognised and fit well with the global Robert Walters network.
Other skills in demand in the global job market are in finance compliance, risk, regulation and audit, says Walters. Legal skills are also needed in Hong Kong and London.
IT is a significant area of growth, too. IT professionals will find employment in a number of countries, their work driven by contract projects.
"The Chinese produce a lot of graduates, some are in IT, but they learn by rote," Walters says. IT experts have to be fluent communicators who can speak to all parts of the organisation.
Walters says the weakness of the British pound against the New Zealand dollar has "changed the landscape" for the Kiwi and Australian temporary workforce in the UK. "It is no longer the case of coming to UK, saving enough to be able to come home and buy a car," he says.
With the uncertain economy, UK-based banks are not hiring at the same volumes as they have been, says Walters.
But those contract Kiwi workers who do have jobs have not felt the pain as much as the British workforce. "The temporary workforce from New Zealand and Australia ... tend to be the last to go," he says. When employers start making people redundant, they usually identify the permanent staff.
The great Kiwi OE will continue, predicts Walters. "Because the path is so well-trodden. There is an established community network, shipping companies, rental agencies."
Robert Walters' New Zealand branch was set up as a response to all the business the company did placing New Zealanders in London.
"We opened it on the back of a candidate flow - there were so many temps working in London, we thought why not place them when they go home?"
Skilled Kiwis wanting to come home are being hired before they reach New Zealand shores, says Manthel, who keeps track of the workers who go to London. Many New Zealand companies hire these people over video or Skype.
"The other side is imports - we get approached more and more by English [people] wanting to come to New Zealand," he says.