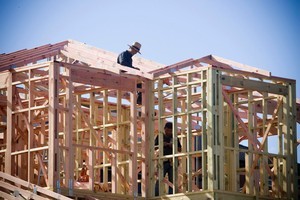 Weighed down by a woebegone building sector, economic growth almost stopped in the June quarter.
Gross domestic product expanded just 0.1 per cent, pulling the annual growth rate back to 1.5 per cent from 1.7 per cent in March.
It represents a decaying of the momentum of the two previous quarters - 0.9 per cent in March and 0.6 per cent in December.
Economists' median forecast had been 0.5 per cent.
Several economists argued that the quarterly GDP out-turns tended to saw-tooth around and that the underlying average rate of 0.5 per cent a quarter was still respectable.
Nonetheless the latest numbers raised questions about the robustness of the recovery, Goldman Sachs economist Philip Borkin said, and by indicating more spare capacity in the economy than the Reserve Bank had thought, might lessen its discomfort with the level of the official cash rate.
Agriculture grew 4.3 per cent in the quarter, its briskest pace for three years, but mining was down 5.4 per cent, reflecting falling output in the oil and gas sector.
Manufacturing was flat (down 0.1 per cent) and the service sectors were mixed.
Finance, insurance and business services expanded 1.5 per cent, the most for six years, but wholesale trade, transport and communications, government administration, and personal and community services all went backwards.
The biggest negative contribution, however, was from the construction sector whose output fell 4.3 per cent, after a 4.4 per cent decline in the March quarter. Activity in the sector is now 23 per cent below its peak in December 2007.
Overall the level of economic activity is almost back to where it was then, but in per capita terms it is still nearly 4 per cent lower.
Bank of New Zealand head of research Stephen Toplis said that, while overall GDP was 1.5 per cent higher in the June quarter than it had been a year earlier, over the same period agricultural output rose 9 per cent, forestry 6.8 per cent and, driven by exports, manufacturing rose 5.2 per cent.
It was the domestic economy which remained suppressed, he said.
On the expenditure side, household consumption, which represents around 60 per cent of total demand, grew just 0.3 per cent, the weakest for two years.
Investment in residential buildings fell 7.2 per cent, its fourth consecutive quarterly decline.
But investment in plant and machinery was up 4.7 per cent, non-residential building up 1.7 per cent and other construction up 7.7 per cent.
"Residential investment has been weakening for a number of years but is set to turn around in 2012 on the back of the Christchurch rebuild," ANZ economist Sharon Zollner said.
An underlying growth rate of around 0.5 per cent a quarter was modest compared with recoveries from previous recessions.
"Accommodative monetary policy and still-high commodity prices are helping, but the headwinds posed by ongoing debt reduction, earthquake-related disruptions, the high New Zealand dollar and a flat housing market have held back the recovery," she said.
"We expect much better growth in the second half of the year, thanks to the Rugby World Cup. Beyond that, the Christchurch rebuild should start to kick in, though there is a risk of a soft patch between the two events."
Green Party co-leader Russel Norman said the Government could stop the potential loss of capacity and skills in the building sector by investing in state house construction before the rebuild of Christchurch got fully under way.
Labour's finance spokesman David Cunliffe said: "Despite billions of dollars of insurance money flowing into Christchurch, the rebuild is already behind schedule.
"The lack of skills training is so bad the Government is already planning to import overseas workers despite unemployment doubling under its watch."
Finance Minister Bill English said increasingly volatile global financial markets and the high dollar reinforced the need for New Zealand to get on top of its longstanding reliance on foreign debt and to build faster, more durable growth based on higher domestic savings and productive investment.