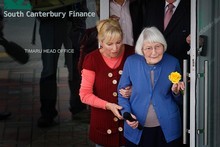 Labour leader Phil Goff has called on the statutory managers of Allan Hubbard's business affairs to release cash to pay the funeral costs for the South Island financier who was killed in a car accident on Friday.
Mr Goff offered his party's condolences to Mr Hubbard's widow Jean who remains in hospital following the head-on crash near Oamaru which killed her husband, 83.
"In the circumstances that's a pretty tragic end to the life of her husband and leaves her very much in a difficult position.
"I hope that statutory management can be changed to the extent that all of the costs of the funeral can be properly catered for _ that's the least that can be done.''
The Hubbards' business affairs were placed under statutory management in June last year.
Prime Minister John Key said Mrs Hubbard's affairs remained under statutory management.
Mr Hubbard was due in court next month on 50 charges, following an investigation by the Serious Fraud Office.
Speaking from Christchurch Mr Key said Cabinet had some discussion today.
"Yes, she's still under statutory management. We're not expecting a decision this week. We'll make a decision early next week.''
He said he wanted to give the family space and privacy at this time.
By Adam Bennett

Email

Adam