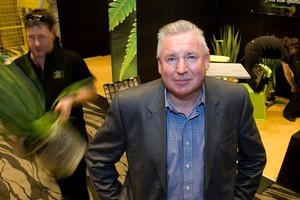 Spending by international visitors to conventions in New Zealand is rising but visitors are expected to stay away for the Rugby World Cup.
A survey by the Ministry of Economic Development showed total convention spending for the year ended June was down 4 per cent at $472.1 million, although the amount spent by international delegates grew by 2 per cent to $226.5 million.
The ministry's tourism research and evaluation manager, Peter Ellis, said the data showed that the conventions and conference industry remained robust despite difficult economic times.
"We think that it shows that things are holding up in a very difficult and volatile environment," Ellis said. "With the economy forecast to gather momentum in the coming year, these figures are likely to increase."
But Conventions & Incentives New Zealand chief executive Alan Trotter said convention business would fall during the Rugby World Cup, as with other major sporting events.
"Purely because convention people are not naive and they know that during the time of this event airfares are probably at a premium, hotel prices are at a premium and frankly they tend to keep away," Trotter said.
Organisations tended to bring forward or delay their events, and the industry body was treating the tournament as an opportunity to market New Zealand as a destination for future conventions.
The latest data was a fantastic result, Trotter said. "I think it's a really good news story given the global financial crisis, which doesn't seem to want to go away and given the Christchurch effect, which was a tragedy, we're quietly very pleased that we're tracking so well and I think it augurs very well for the future."
There was pent-up demand for New Zealand out of the Australian market, particularly for corporate and smaller meetings, Trotter said. "I think the disparity between the Australian dollar and the New Zealand dollar is really giving us a lot more business."
The majority of international conventions booked for Christchurch were relocated after the quake effectively took out the central business district, although some domestic meetings would have been cancelled he said.
There were exciting developments with the prospect of new convention centres in Auckland and Christchurch.
The Government is negotiating with SkyCity to build the country's largest convention centre in Auckland, with projections for 183,000 delegates a year.
Trotter said: "What we need to do as a country, and Auckland as a city, is just take the business to the next level ... target those very large, by our standards, conventions [of] up to 3500 people which is effectively double what we can do now."
CONVENTION INDUSTRY
* 210,987 NZ-based delegates, down 7.6pc.
* 54,983 international delegates, up 4pc.
* $245.6m spent by NZ-based delegates, down 8.3pc.
* $226.5m spent by international delegates, up 2pc.
* $552 average international spend per night, up 18pc.
- Year ended June