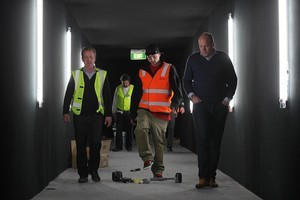 Demand for hospitality packages has taken off as companies and fans look for tickets to the Rugby World Cup final, says Rugby Travel & Hospitality.
Tickets for the final were sold out apart from hospitality packages and some through the official travel programme, which was focused more outside New Zealand.
UK-based Rugby Travel & Hospitality has the exclusive global travel and hospitality rights and has formed a New Zealand company for the tournament. Operations director David White said demand for the final was huge.
"Once people realised that the only place you can get a ticket is from us our demand has really taken off," White said.
Hospitality packages for the final ranged from $1795 plus GST for an individual off-site hospitality option up to $5895 plus GST per person for a corporate box with 16 or 20 seats.
The hospitality flagship Eden Park Pavilion had about 200 tickets left for the final at a cost of $4745 plus GST per person, including four course fine dining.
Construction of the pavilion, with six restaurants and capacity for 3000 fans, was well under way at a cost of about $7 million, White said.
"The basic structure has come from overseas but in terms of the local suppliers we've got the air conditioning, we've got architects, electricians, engineers, plumbers, lighting, AV people," he said.
"There's well over 100 local people and suppliers working on it."
When operating at a full capacity the pavilion would need about 1000 staff, including catering, front of house and security.
The company was on track to sell 15,000 tickets for the pavilion and about 50,000 hospitality packages in total nationwide, White said.
"Typically New Zealanders like to leave things to the last minute ... the last few weeks has been very strong."
Hospitality packages at matches around the country included off-site locations, function rooms at stadiums, corporate boxes and the Eden Park Pavilion, with costs from $395 plus GST.
"We are 40 per cent cheaper than our [hospitality] packages were in France so there's no question it is expensive by New Zealand terms but it's quite reasonable in terms of price for other global events," White said.
About 75-80 per cent of hospitality tickets would be sold to corporate buyers, although high net worth individuals and rugby fans were also buying.
"Obviously it's reasonably tough [economically] out there but people have seen this as a once in a lifetime opportunity," he said.
"We'd like to think that we've got a wide variety of products now that caters for almost every person wanting to go."
Meanwhile, the official travel programme was pretty much complete and had sold 110,000 tickets, with packages including a ticket and travel and/or accommodation.
"We actually originally forecast to sell 70,000 [travel packages] so we're absolutely delighted with the travel programme," White said.
French fans accounted for about 23 per cent of the ticket sales.
White said: "There will be a lot of French here on that big game against the All Blacks."