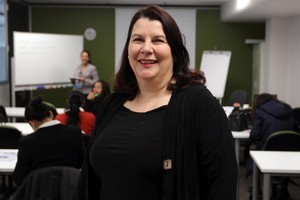 Applying for a job is often difficult. Applying for one in an economic downturn, especially if you have been out of work, can seem like an impossibility.
But experts say if you maintain your confidence and ask for help wherever you can, getting back into the workforce will be less of an ordeal.
The job market is sluggish. The unemployment rate is fairly static at 6.5 per cent and the number of people on the main benefits has dropped only 1.5 per cent from this time a year ago to 327,817.
There are many more people out of work who do not qualify or apply for a benefit.
The biggest problem for most people who have been out of work is that they lose the confidence to get back into it.
Jo Henderson, manager of Kinetic Recruitment, said she always told candidates to focus on having the right mindset. "Don't dwell on [the redundancy] - yep, that happened, now move on."
Dress for Success Auckland executive manager Julie Mackey said people returning to work were often apprehensive about employers' expectations.
"What are people looking for? Do they measure up?" In some cases, things had moved on since the last time they had a job and they felt left behind. They didn't know what to wear, say or how to present themselves, she said.
Penny Smith, employment manager at the Auckland Chamber of Commerce, responsible for its programmes designed to get people into work, agreed.
"Confidence can be lost very quickly. Even women who are on maternity leave are surprised at how quickly they lose confidence."
Mackey said that as well as helping with wardrobes, Dress for Success offered one-on-one consultations to role-play what an interview might be like.
"Then they can go in knowing something about the company and know how to answer questions without saying 'um'."
The organisation was on track to help 1800 women in Auckland this financial year.
Older people often struggled most with job hunting.
"Some people have been working for a long time, are made redundant and find it hard to get back," Mackey said. They might have a lot of experience but only in one area.
"A number may not have retrained and there might be a technology gap there."
She recommended that people identified the skills they lacked and looked for courses to fix the problem.
"It can be scary but there are lots of things out there that are free or reasonably priced."
It was also possible to turn a gap on your CV into an advantage. Mackey said everyone should be prepared to talk about a period of unemployment and paint it in a good light.
"Be able to say, 'I went and I did this'. Everything is positive if you present it in the right way. Don't say, 'I've been unemployed', say, 'I have been doing these courses, have spent time with my family and now I am fired up and ready to get back into the workforce because I have so much to offer'."
Look for help anywhere you can. There are lots of courses available to jobseekers. Dress for Success offers a CV centre and the Chamber of Commerce has programmes to help people get back into work.
The Auckland Chamber runs a one-week intensive business professional course, Return to Work, to give people the skills they need for their job search. They then promote the candidates to employers.
Smith said the people running the course got to know the candidates well. "We can have people working within days, sometimes."
For jobseekers who are not registered with Work and Income, Jobs Plus is a one-day polish-your-skills course after which people also become part of the Chamber's pool of candidates.
Winz offers several programmes, such as work experience in a chosen field, a "straight to work" programme designed to give people the skills needed to get work in their industry and the Employers Online system, through which employers can search the database of Winz jobseekers.
Henderson said the struggle of finding a job should not be blown out of proportion. "[Some of it comes down to] common courtesies. Introduce yourself to people - half the battle is getting your foot in the door."
Get back on your feet
Having been in charge of teams of staff while working in recruitment at the BBC in Britain, the last place Penny Smith expected to find herself was on the benefit.
But after returning to New Zealand with her children in tow, including a 7-week-old baby, she was unemployed for 3 years. She supported herself for quite a long time, not wanting to ask for any government assistance.
"Every Monday I was going to get a job," she said. But she found she did not even know where to start. With a baby to care for she already felt isolated, "and when you are used to succeeding, you become very private about your lack of success. I didn't think I was one of those people who would end up in that position."
She had no recent New Zealand work experience and was convinced that would put employers off. Eventually, she went on the benefit.
"I was at a party at my brother's house and one of his friends was a doctor. I told her about my situation and that I wasn't on the benefit and she said, 'You must, it's there for people like you. You're not going to be on it forever'."
Lacking in confidence, she was referred to the Auckland Chamber of Commerce's Return to Work programme.
"I felt my own confidence growing immensely."
The chamber had an entry-level administration vacancy and Smith put up her hand. "It wasn't at my skill level but it was at my confidence level." Then her boss got pregnant. "I thought to myself, 'I have to try', and went for the role of manager of the department - and got the job."
She now runs six initiatives aimed at getting people back to work and says the fact that she knows what it is like is invaluable.
She says one of the things that stood out to her was when someone described the benefit as "a safety net, not a hammock".
She said she would ask for help earlier if she was ever in that position again.
Job hunting tips
* Dress up. If you've been out of work for a while you might be out of the habit but make sure you look the part, with polished shoes, tidy hands, brushed hair and a suit or skirt and tailored shirt.
* Shake hands with confidence and make eye contact.Prepare some questions to ask at the interview.
* Generic questions to keep in mind: What roles would this lead to? What has made people successful in this position? How did you get your job?
* Have realistic goals. Some people go back in at exactly the level they left but others need to start further down the chain and work up.
* Get help from the professionals. Sign up with a recruitment agency and look for programmes designed to help you.