Overcoming public perceptions is the first step, but planner promises economic benefits will be tangible.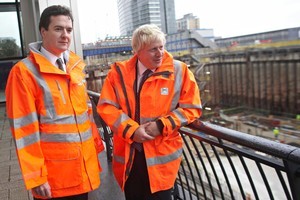 A British economist and urban planning specialist says Auckland could learn a lesson from cities such as New York and Shanghai when it comes to high-density business districts.
He also says road users should be directly charged for every trip they make and believes privately-funded toll roads are the future.
Paul Buchanan is a director of Colin Buchanan & Partners, a British-based transport planning, urban design and economics consultancy. His firm merged with Sinclair Knight Merz (SKM) in June, a company that works on major infrastructure projects in New Zealand.
"I am an economist and started my career working out the value of transport infrastructure in terms of user benefits," says Buchanan, who is due to visit Auckland this month.
"I want to see what's on the table and how I can help SKM deliver a better offer to the Government."
Buchanan will be meeting with NZ Transport Agency officials and will ultimately share his thoughts on where money should be spent when it comes to moving people in Auckland.
"I hope to enhance the economic case," he says.
Buchanan says a turning point in his career came about 10 years ago when his firm was involved in the £16 billion ($30 billion) Crossrail project in London, a scheme that is now well advanced and will link east and west London's business and economic centres, as well as connecting them to Heathrow Airport."
"£16 billion was a big pill for the Government to swallow in one go," says Buchanan. "The project had been knocking around for 30 years and could not get funding, but Crossrail was clearly a great scheme."
Buchanan's firm helped the British Government understand that the project should not be seen in isolation, but that it would deliver wider economic benefits such greater efficiencies for business.
Tony Innes, who is group service line leader (buildings and infrastructure) at SKM says Buchanan's work on the Crossrail project helped get the scheme across the line.
He is hoping Buchanan can do the same in Auckland by helping decision-makers understand how transport, and a change in focus on urban planning, can add to the city's bottom line.
Buchanan says: "We turned Crossrail from being a transport project into an investment in economic growth.
"That really changed the UK Treasury's position on funding it.
"No transport project should be taken in isolation because it is part of a whole, they all depend on the development and planning issues that surround them.
"I find it hard to think of a good transport project that doesn't have a significant impact. If it doesn't have an impact then it should never have been built in the first place."
Auckland's mayor Len Brown has two rail projects on the table, a line to Auckland airport and a link across the Waitemata Harbour to Albany on the North Shore. But Buchanan says delivering successful public transport has some real challenges.
Public transport, including passenger rail, is most successful when it is connecting to areas of higher density, he says.
Buchanan hasn't been to New Zealand for 15 years, but says though Auckland has a bit of a business cluster, it has low-density residential developments throughout the region that makes delivering public transport really challenging.
"Particularly with rail-based passenger transport which needs higher population or employment densities to be successful," he says.
During his research for the Crossrail project, Buchanan drew on data from the US that was generated in the 1970s and 80s.
"It was interesting to see that in cities where employment is more densely clustered they are more productive than a city where employment is more widely dispersed, " he says.
"The more you can get your jobs to cluster in the city centre, the more productive each of them are and the better your city works.
"Companies want to cluster, and if they are not clustering it is probably because there is not enough transport into the centre so not enough people can get there.
"You see it at all levels, even in a tiny village at the crossroads, where a business or two are positioned on each corner, the pub, post office, bank and baker they cluster right next to each other.
"You see it in Shanghai and New York, companies pile into the middle where it costs them double the rent, but they make more money than they would by being outside the cluster. They all feed off each other. It is rare that any one of them can operate in isolation."
Buchanan says what's happening in Auckland is that residential properties are so spread out that it is hard to deliver high capacity transport.
He says there is no evidence that having too many businesses and people in an area causes a reduction in efficiency.
However, it does get more expensive to deliver infrastructure, he says. "So when you are putting your fifth railway line under London, you have to go deeper to avoid the other four and the costs go up.
"The density we have in London is nowhere near that of Tokyo or Manhattan, but in places such as that the productivity just keeps going up.
"You can prevent growth by not delivering the infrastructure, or by putting in planning rules that mean you can't go to more than three storeys high.
"But if you don't prevent it, you will get somewhere, and if you enable it with capacity you can get somewhere even better."
Buchanan maintains there is no reason why almost every road shouldn't be privately funded - "certainly all main roads should be". He says a user-pays price mechanism would probably work really well on roads.
"There are political difficulties in charging people for things they feel they have already paid for, and that they perceive as being free, but once you overcome those difficulties, the output is a vast improvement.
"It gets rid of that sprawl thing because people are paying by the kilometre [when they drive anywhere]."
Buchanan says toll roads make people think twice before getting behind the wheel and so encourage users to make each journey as efficient as possible.
"It definitely works, there is no question about it," he says. Governments could "scrap road tax and scrap the fuel tax, which is the big one. You could scrap both of those and put it all on the marginal price of using the roads - put it all on a charger system.
"Right now people fill up their tank and drive wherever they want and don't pay again until the next time they fill up the tank - a random event. But a ticker on the dashboard, clicking up the dollars as you go along the road, that has a real immediate effect."
Intense business
Paul Buchanan says to increase efficiency Auckland needs to:
* Have high intensity business clusters
* Bring companies close to each other
* Build privately funded toll roads
* Increase bus services
The one-hour rule
Better transport infrastructure, says Paul Buchanan, gives people the option to live further away from their place of work.
"There is a whole lot of evidence in Britain that shows people have typically spent one hour travelling to work, despite billions of pounds being spent every year on infrastructure that has been justified in the name of saving time," he says.
"And in the whole of that time average travel to work times have stayed exactly the same.
"They travel an hour a day now and they travelled an hour a day 60 years ago. The difference is that now they travel almost twice the distance and the number of people doing this has exploded as people have moved out to the country.
"They are taking advantage of faster travel by moving further away where they can get a bigger house with a bigger garden and a sea view and this, that and the other.
"But whether there is any economic benefit to that is unclear. I think the further people move away, the more cost they impose in urban sprawl and environmental cost such as in travelling 10 miles to get a loaf of bread - because they are [living] in the middle of nowhere.It is better to deal with capacity than improved speed.
"Where you have a capacity problem then that is a big economic constraint, you should deal with that really locally and not to make it quicker to travel 40 miles."
SKM's NZ projects: On the go
SKM is undertaking a detailed study of the proposed route for the Puhoi to Wellsford road of national significance which will run approximately 38km through northern Auckland.
The project aims to improve the state highway network from the existing Northern Gateway Toll Road at Titfords Bridge in the south to just north of Wellsford in the north.
Other projects include the Mount Victoria and Terrace Tunnels project, Wellington Indoor Sports Centre and Kawerau Falls Bridge.
SKM continues to provide assistance to various clients on a variety of projects integral to the Christchurch Earthquake Rebuild including building inspections as well as environmental, structural, demolition waste, transport & geotechnical services.
*Steve Hart is a freelance journalist at www.SteveHart.co.nz