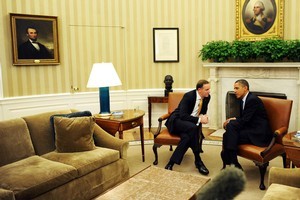 The greatest impact of the United States debt crisis on New Zealand is the rising dollar, Prime Minister John Key says.
The kiwi this morning yet again hit a post-float high as it came within a whisker of US88c.
At the same time, the US dollar fell to a record low against the Swiss franc and a four-month trough against the yen, both traditional safe-haven currencies, as weak data on US economic growth ignited fears the economy could slip into another recession.
Politicians in the US continued to wrangle over a plan to cut American spending, raise the nation's borrowing limit and avert an unprecedented debt default, as party leaders continued to express optimism that an agreement would be reached.
Key, who has just returned from visiting the US, told Newstalk ZB he thought US politicians would be able to eke out a deal but they were taking it to the wire.
"They were a lot more confident when we were in Washington 10 days ago that a deal would definitely be done and I think it was unthinkable that they could not reach an accommodation. It's getting very, very close now."
The New Zealand dollar had increased during the crisis and would track even higher if a deal was not reached.
"You would expect our exchange rate to track even higher," he said.
"You've seen the NZ-US exchange rate moving up on the back of the deep concern that the financial markets have that the US might not get a deal done and that overall the US economy."
Other flow on effects would be a slowing of the US economy.
"It just sends a wave through the world's financial markets that can't help New Zealand."
Key said the crisis showed his Government was right to constrain spending and work to reduce debt.
In latest developments, a spokesman for Democratic Senate Majority Leader Harry Reid said the senator supported the emerging deal to avert a disastrous debt default, pending support from his rank-and-file.
"Senator Reid has signed off on the debt-ceiling agreement pending caucus approval," Adam Jentleson said in a statement as the White House and top US lawmakers raced to make a midnight Tuesday deadline.
Reid's announcement, which was largely expected, made him the first of the four seniormost congressional leaders to formally endorse a blueprint crafted by President Barack Obama, and his top Democratic allies and Republican foes.
The White House and lawmakers have been hunting for an agreement that would raise the $14.3 trillion dollar US debt ceiling while making deep spending cuts aimed at reining in the galloping US budget deficit.
The US economy hit its debt limit on May 16 and has used spending and accounting adjustments, as well as higher-than-expected tax receipts, to continue operating normally - but can only do so through to midnight on Tuesday.
Business and finance leaders have warned default would send crippling aftershocks through the fragile US economy, still wrestling with stubbornly high unemployment of 9.2 per cent in the wake of the 2008 global meltdown.
Without a deal, the US government would have to cut an estimated 40 cents out of every dollar it spends, forcing grim choices between defaulting or cutting back programs like those that help the poor, disabled and elderly.
Any compromise would still need to clear the divided Democratic-led Senate and Republican-held House of Representatives, where conservatives close to the "Tea Party" movement have called for draconian belt-tightening while liberal Democrats have vowed to protect the US social safety net.
Reid and other top Senate Democrats met for nearly two hours with Democratic House Minority Leader Nancy Pelosi, but a source said there was "no sign off" on the framework from the assembled lawmakers.
Asked whether the Senate would vote on a deal Sunday, a tight-lipped Reid told thronged reporters: "We hope to."
- NZPA / AFP