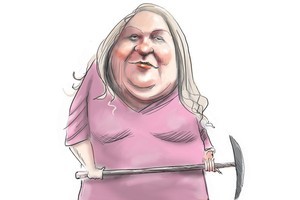 Gina Rinehart is not the kind of enemy you'd like to have stalking around your backyard. At 10 she was driving utes through the West Australian outback with her dad, pioneering mining magnate Lang Hancock.
Lang was no sissy either. He wanted to use nuclear bombs to blast mines into the remote, red Pilbara, where in the 1950s he'd stumbled upon the world's biggest iron ore deposit while piloting his Auster out of rough weather down a Turner River gorge.
By the time Rinehart was in her early teens she was being groomed as Hancock's successor. She took over the struggling empire on his death in 1992, rebuilt it in her image, and is now Australia's richest person, worth more than A$10 billion ($12.7 billion).
Last month Citigroup predicted Rinehart could eclipse the US$74 billion ($87.7 billion) fortune of Mexican magnate Carlos Slim and Microsoft chief Bill Gates' US$56 billion, to become the wealthiest individual on the planet.
With her wealth doubled by the commodities boom over the past year, her fortune locked to outright control of her companies, and using the 11-times price-to-earnings ratio of her partner Rio Tinto, Citigroup said three coal and iron ore projects now under development would eventually slingshot Rinehart ahead of Slim and Gates.
All this had largely gone unnoticed by most of the world. Apart from her all-too-public spat with former stepmother Rose Porteous and rare appearances since, the notoriously media-shy Rinehart had been all but invisible. Her dislike of journalists is legendary. She does not give interviews, and most stories about Rinehart are based on a small fund of publicly available information, swift glimpses provided by usually anonymous associates, and widely recycled anecdotes.
But a convergence of accelerating wealth in what has become Australia's most visible economic sector, and Prime Minister Julia Gillard's determination to impose resource and carbon taxes upon it, has seen Rinehart suddenly take centre stage. She has given speeches, written articles and used various functions as soapboxes, even once last year climbing unannounced on the back of a ute at a Perth rally protesting Gillard's policies to shout to supporters: "Axe the tax".
A fortnight ago she hosted a glittering assemblage of local and international corporate and political celebrities, gathered to celebrate the first export load of coal from her new mines in Queensland, and lashed Gillard's carbon tax plans.
"There is simply no place in Australia for policies that deter exploration, investment and hard work," her guests were told. "Not if we want standards of living to be maintained or improved. We live in a cost-competitive world, profits are only temporary. Canberra needs to recognise this."
This week, as Gillard was hammered in the polls after her announcement of the carbon tax details, Rinehart was back in the ring slugging, warning that Labor policies would drive investors away.
"They are going to be looking at Mongolia, they will be looking at West Africa because they can't keep supporting high costs," she told a conference in Perth. "If we don't keep cost competitive, they will go elsewhere and that's the reality."
Rinehart has few problems reaching influential ears. Recently she flew a bevy of senior Coalition MPs, including deputy Liberal leader Julie Bishop and Nationals Senate leader Barnaby Joyce, to a wedding in India. Labor MPs declined the invitation. The groom was Sidharth Reddy, son of industrialist Sanjay Reddy, whose GVK group is buying a US$2.4 billion stake in Rinehart's new thermal coal mines in central Queensland's Galilee Basin.
Closer to home, Rinehart entertained senior members of Queensland's State Labor Government aboard The World, the towering, ultra-exclusive cruise liner on which she maintains a residence, each of which costs between US$600,000 for a 30.5sq m studio and US$2.95 million for a two bedroom suite.
Deputy Premier Paul Lucas, Mines Minister Stephen Robertson and Speaker John Mickel were Rinehart's guests while the Government was considering her application to build a private rail line for her coal mines. The meal was approved by Premier Anna Bligh.
More significantly, Rinehart has bought 10 per cent of the Ten television network and spent a further A$50 million buying a 1.5 per cent stake in Fairfax Media, surprising analysts who suggested the mining titan was trying to increase her political leverage.
Not so, says Cheryl Edwardes, head of government relations for Rinehart's Hancock Prospecting. Edwardes, herself a former WA attorney-general, told the Australian newspaper that the deals were purely business decisions: "If she wants to influence debate she can use her website." Commentators were not convinced.
Rinehart is truly her father's daughter. Hancock grew up in the unforgiving pastoral country of northern WA, an isolated and harsh life that his first wife, Susette, could not endure in the 1930s. She left Hancock and returned to Perth.
In 1947 Hancock married Hope Nicolas. Hope had been with Hancock when the little Auster bounced through the turbulence of the Turner River Gorge and they saw the rusty colour that marked the massive ore deposits that made the Hancock fortune.
In February 1954, Gina was born, living first at Nunyerry, near Wittenoom, until boarding at St Hilda's Anglican School for Girls in Perth. Holidays were spent with her father, living the life of outback men.
"He's a wonderful father," Rinehart told the Women's Weekly as a newlywed in 1975. "Strict, when he wants to be - he'll stand no nonsense - but we have always been very close friends.
"His grooming, his education for my eventually taking over the responsibility of his interests began when I was about 12. That's when he first took me camping in the Kimberleys to actually see the iron ore country, appreciate its vastness, its importance, and to teach me about minerals."
Rinehart had to grow up quickly, and endure her father's fame. The year she spent studying economics at Sydney University was instructive. "A lot of the leftwing students at the uni didn't take to me too kindly," she told the Weekly. "You feel jealousy, resentment. Some people try to use you. But I can cope."
Her first marriage, at 19, to Greg Milton, a British storeman she met in Wittenoom who later changed his name to Hayward, ended in divorce after producing son John and daughter Bianca. John later fell out with his mother and Bianca now appears to be heiress-apparent.
At 29, she married 57-year-old American lawyer Frank Rinehart, who died in 1990. They had twins Hope and Gina.
But in 1983 Rinehart's life was flipped into chaos when, within months of her mother's death, Hancock romanced - and in 1985 wed - flamboyant Filipina maid Rose Lasca. It was a tempestuous match bitterly opposed by Rinehart, creating a feud that lasted years after Hancock's death and involved long, tawdry legal battles.
Rinehart was at the same time struggling to revive her troubled inheritance: a task in which she thrived, largely unnoticed, and which still causes her to bristle when she is described as a "mining heiress".
Her success, analysts readily concede, is her own.
She reflects the tenets she has ascribed to her late father: persistence and perseverance, overwhelming belief in the importance of the mining industry to Australia and its future, the need for governments to butt out, reduce existing taxes and resist new ones, and for policymakers to treat the north as a special case that can, for example, import cheap guest labour.
Described as tough, ruthless if need be, and a workaholic, Rinehart told last Sunday's Queensland gathering: "For the cost of building this trial mine alone, I could have bought myself a beautiful new private jet. But you've seen those trucks and shovels out there. Who would be paying the wages of these contractors if I had spent that on a luxurious private jet and two pilots?"
Rinehart doubts climate change is real, writing in Australian Resources and Investment: "I am yet to hear scientific evidence to satisfy me that if the very, very small amount of carbon dioxide in the atmosphere ... was increased, it could lead to significant global warming."
For Gillard and Labor, Rinehart is both the rock and the hard place.