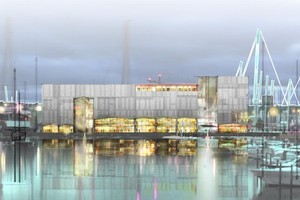 A five-star, 300-room hotel will fill former America's Cup sites on one of the most valuable pieces of waterside property in the country.
The seven-storey hotel will be constructed on Team New Zealand's home base in the Wyndham Quarter on Auckland's waterfront, and will take at least five years to build.
The Auckland Waterfront Development Agency said it was still in talks with potential hotel operators, and was not ready to announce who will fill the new building.
The agency said yesterday that a consortium of two Auckland architecture firms, Fearon Hay and Peddle Thorp, had won the hotly contested design competition for the development ahead of a talent pool of 23 practices.
Peddle Thorp director Richard Goldie said the hotel would be of a world-class standard and in an enviable harbourside spot.
"We describe the site as a privileged one because the only other building on the Auckland waterfront that occupies that kind of space is the ferry building."
The scale of the development - the size of a rugby field - posed several challenges. Mr Goldie said he did not want to block access to the water's edge.

The hotel's structure will be separated into three by two streets, which will allow the public to walk from Halsey St through to the waterfront.
Mr Goldie said the design favoured a more solid facade as opposed to a "glass box" style.
The higher floors will give a view across most of downtown Auckland.
"From the upper floors you look across the Viaduct Basin to the city, also across the western viaduct out to Rangitoto.
"Then, in a northerly direction, you look up the harbour bridge, and even on the back side there's probably views up to Ponsonby Rd ridge."
The entire Wynyard Quarter redevelopment is underscored by
progressive design, and the hotel is considering several sustainability measures - the most striking of which is an absence of air conditioning.
"The rooms could be run with just a little bit of space heating for the winter. Down there, where it's relatively quiet and the air is clean, there's no harm in having a window cracked open in the night and enjoying the sniff of the sea air," said Mr Goldie.
"These things are romantic ideas at this stage but we'd like to see them delivered."