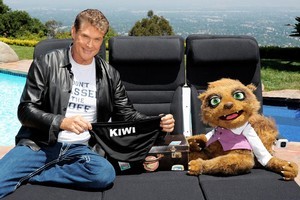 Air New Zealand has aligned itself with a troubled Hollywood actress currently under house arrest for jewellery theft.
Lindsay Lohan, 24, filmed a promotional clip with the airline's foul-mouthed puppet Rico this week from her Los Angeles apartment, where she is in home detention.
The Mean Girls star, who has battled alcohol and drug problems, was given house arrest in May after pleading no contest to jewellery theft. Rico's visit to Lohan was reported on leading celebrity gossip website TMZ and by gossip blogger Perez Hilton.
The Jim Henson-created puppet is part of the airline's strategy to use social media and viral marketing to gain exposure greater than its budget would traditionally allow.
The latest round of filming included former Baywatch star David "the Hoff" Hasselhoff and E! News host Giuliana Rancic.
Hasselhoff, famed for his red swimwear, was presented with a black pair of Speedos with the word "Kiwi" printed across the rear.
Rancic donned an All Blacks T-shirt during her interview.
Lohan's involvement is part of a risque marketing strategy that relies on social media users re-posting and sharing clips online.
Rico has previously referred to New Zealand beaches as "nice Kiwi bitches" and encouraged strangers to have sex on Air NZ's new reclining seats. A duet between the mascot and rapper Snoop Dogg attracted more than 600,000 views on You Tube and was picked up by US breakfast TV.
The strategy has been criticised by some in the advertising industry as being at odds with the airline's brand.
But Air New Zealand insists the marketing enables the airline to reach millions of people on a comparatively limited budget.
"Given the Kiwi dollar doesn't go far in many of the overseas markets we operate in, innovation is critical for us," said the general manager of marketing and communications, Mike Tod.