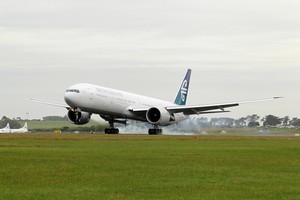 Air New Zealand boss Rob Fyfe has hit back at "malicious rumours" out of Australia that the airline has grounded ash-damaged aircraft and was dangerously continuing to fly around the ash drifting around the world from Chile's volcano.
Both Qantas and Jetstar say they will resume their trans-Tasman flights at noon.
Virgin Australia is being more cautious and says it is continuing to monitor the ash plume which is heading to New Zealand and will advise its customers "as soon as possible" when services will recommence.
Domestic and trans-Tasman services could still be disrupted for another few days as ash continues to drift across the country.
Air New Zealand flights are not affected. It is accepting the cost of burning more fuel lower and flying below and around the ash cloud.
Mr Fyfe said that behind the scenes Air NZ was "constantly battling a series of malicious rumours that emerged from the Australian market and fed to media".
The rumours suggested that Air NZ had six ash-damaged aircraft in the hangar, an aircraft grounded in Australia with ash damage and an aircraft requiring a nose cone replacement as a result of ash damage, he said.
"All these stories were a complete fiction and I was left scratching my head as to where these false rumours were coming from."
Mr Fyfe also took a swipe at Qantas.
An email from Qantas chief executive Alan Joyce to the airline's eight million frequent flyer customers, justifying Qantas' decision to ground many of its aircraft, implied that airlines like Air New Zealand and Virgin Australia were operating unsafely, Mr Fyfe said.
"What Alan omitted to mention was that it wasn't just Air New Zealand and Virgin Australia that had managed to adapt their operations to operate safely in clear air, but all airlines apart from Qantas and Jetstar had managed to achieve the vast majority of their operations.
"What Alan also failed to mention was that Qantas was very happy to transfer thousands of its customers onto Air New Zealand and other airlines' services, which seems a strange thing to do for your customers if you have concerns about the safety of the airspace."
Mr Fyfe said that as Mt Puyehue Cordon Caulle continued to erupt, ash clouds would continue to drift across the region possibly for weeks or months to come.
"It is also likely that we will see Qantas and Jetstar come under further customer and media pressure if they continue to adopt this strategy of grounding aircraft and it is possible that we will continue to see misinformation and false rumours emerge in the market."
- NZPA