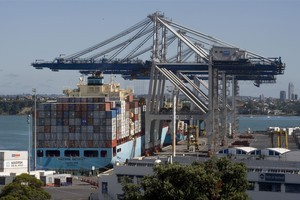 New Zealand recorded a merchandise trade surplus of $1.1 billion in April, the highest monthly surplus ever recorded, figures released by Statistics New Zealand show.
Economists had been expecting a surplus of $600 million for the month, up from $464 million in March.
The NZ$1.1 billion surplus in April was 24 per cent of the value in exports, and was the highest in this measure since May 1993, Stats NZ said.
"Contributing to the surplus, exports in April 2011 reached $4.7 billion, also a new high," Stats NZ overseas trade manager Neil Kelly said.
The total value of goods exported in April 2011 rose $691 million (17 per cent) from April 2010, across a range of commodities, led by the milk powder, butter, and cheese commodity group, Kelly said.
The total value of goods imported in April 2011 rose $238 million (7.2 per cent) from April 2010, to NZ$3.5 billion, led by increases in petroleum and products values.
"The trends for export and import values have continued to increase since their most recent low points in September 2009. While the trend for exports is at its highest level, the trend for imports is 9.5 per cent below its peak in September 2008," Kelly said.
The annual trade balance for the year ended April 2011 was a surplus of $1.2 billion (2.6 per cent of exports). This was the largest surplus for a year ended April since 1994, Kelly said.

INTEREST.CO.NZ