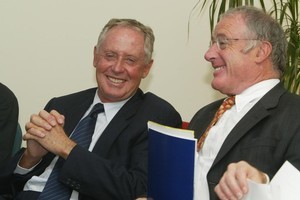 Argosy Property Trust's independent directors want to continue with a management internalisation deal, saying they fear a third party might try to enter negotiations, but have an "open mind" about DNZ Property Fund's takeover moves.
Trevor Scott and Peter Brook said DNZ's moves had to be in Argosy investors' best interest.
Scott and Brook said they wanted to update investors in the trust which owns $900 million-plus in real estate and will issue its annual result on Monday.
But they also raised the prospect of management contract owner OnePath selling out to a third party.
If unitholders did not agree to buy the contract, OnePath had the ability to sell to a third party.
The $32.5 million termination of the current manager's rights over the trust was the best way to proceed, they said.
"We are seeking confirmation from the Inland Revenue Department that the $32.5 million payment will be tax deductible, the impact of which would provide additional value to unitholders," the directors said.
The management buyout proposal should proceed, regardless of DNZ's hostile takeover moves.
"We have an open mind to a potential future merger with DNZ should that be earnings and value accretive to
unitholders.
"At this time, however, our central focus remains on the strategic initiative to internalise the management contract in the most effective and timely manner," they said.
Tim Storey, DNZ chairman, said next year's dividend from his company would rise.
DNZ paid 8.85c a share in the year to March 31, 2010. This fell to 7.3c in 2011 but guidance issued this month pointed to an 8c payout for next year.