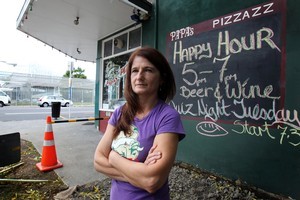 For a quarter of a century, Papa's Pizza has fed the people of Mt Eden, next door neighbour Helen Clark's police bodyguards - and the hungry hordes leaving the rugby matches at Eden Park.
But now, the small pizzeria has learned it will have to pay more than $1000 a game to cash in on Rugby World Cup crowds.
To open later on game days, Papa's Pizza and nearby businesses will have to pay between $7500 and $12,800 to a special Rugby World Cup "enabling" authority to hurry up the usual resource consent process.
Small operators are now crying foul, saying council and the Government should do more to help local businesses near game venues.
Papa's Pizza sits just across Sandringham Rd from Eden Park. Owner Gail Winter said road closures would cut the restaurant off from her normal client base, so she needed to extend the hours to take advantage of the crowds for Eden Park's 11 games.
"We're only asking for a temporary licence," she said. "Why do we have to pay such huge fees if we have no choice?"
Legislation was brought in last year to speed up the process for businesses wanting to change their operating conditions for the Cup.
To circumvent the lengthy council resource consent process, businesses have to apply under Part 3 of the Rugby World Cup 2011 (Empowering) Act 2010 to change opening hours. The application costs from $7500 to $10,000.
In addition, those wanting to change their liquor licence temporarily have to apply under Part 5 of the Act, which costs $2800.
Winter said that was a huge amount to pay up front for a small business, especially since the changes would only take place on game nights.
"It could end up costing $10,000 plus. That's about $1000 per game," she said. "How much do they expect from us? We're only small, we're not big business."
Crave Cafe manager Nigel Cottle said the cost was too high to take advantage of the thousands of people walking past his cafe from the Morningside train station. "It's too expensive for us."
Auckland Council licensing and compliance manager Carole Todd agreed costs to applicants for Part 3 approvals were "fairly high".
"However these charges are set down in regulations and cannot be modified," she said.
The Ministry of Economic Development administers the Act. Ministry senior solicitor Robert Rendle said: "There are going to be a lot more people in Auckland who are going to be frequenting bars so it might be financially beneficial to pay the cost."
Eden-Albert councillor Christine Fletcher said it would be a very poor look if authorities didn't support local businesses during the World Cup.
"The success of the Rugby World Cup for us is going to be reflected in how well the local businesses do," she said.
THE COST
* $1000 to trade on Cup days
* $2800 Temporary liquor licence fee
* $7500 Minimum resource consent fee