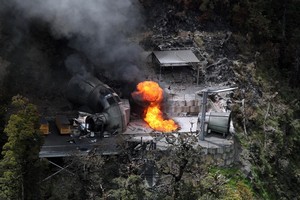 Receivers for Pike River Coal's mine assets say they have received expressions of interest from "a number of parties", as at last Thursday's deadline.
"I'm not disclosing numbers now that we are into the sales process," said John Fisk of PricewaterhouseCoopers, which is acting as receiver for the company. The company was put into receivership after a deadly series of explosions last November that claimed 29 lives.
"We're pleased with the level of interest," Fisk said.
So far, only state-owned coal miner Solid Energy has publicly expressed its interest in buying the Pike River assets, although it has warned it could be years before a new mining plan is agreed and it's unclear how much, if any, of the original mine's tunnels and equipment could be reused.
Relations between Solid Energy and the receivers have soured, with Fisk lodging an affidavit in late April alleging that Solid Energy's actions in gaining leases on coal handling facilities at Ikamatua threaten to lower the value of the Pike River assets for any other bidder.
Fisk declined to comment further on the claim against Solid Energy and the two leaseholders named in the affidavit.