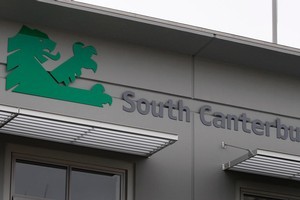 South Canterbury Finance's receivers say they collected $238.7 million worth of loan book repayments, and received $59 million in inter company loan repayments, in the six months from their appointment to February 28.
The receivers, Kerryn Downey and William Black of McGrathNicol, say in their second receiver's report the money was collected from borrowers' scheduled principal and interest payments, early repayments and settlements negotiated by South Canterbury Finance (SCF).
The group had $1.1 billion worth of loans outstanding, net of $446.2 million of impairment provisions, when the receivers were appointed.
Downey and Black say McGrathNicol has recovered $66,112 worth of bad debts.
A total of $299.7 million is recorded as receipts between August 31 and February 28.
The report also reveals more than $9 million worth of fees billed by the receivers, lawyers, investment bankers and others already.
The asset sales process has thus far cost $3.36 million and the receivership itself $5.78 million.
SCF lent $50 million between August 31 and February 28.
The receivers say binding offers for SCF's about 80 per cent stake in Scales Corporation were received this month and indicative binds for an 83.3 per cent stake in Dairy Holdings, of which SCF has 33.6 per cent, are expected in May.
Asset realisation-sales process costs to date include NZ$2.5 million worth of vendor due diligence fees and $862,500 worth of investment bankers' fees.
McGrathNicol has reached a conditional deal to sell the 100 per cent SCF owned Helicopters NZ to Canadian Helicopters for about $160 million, and also has plant and equipment lender Face Finance, and the group's core finance company businesses - its consumer, business and rural lending operations - on the block.
The receiver's sales advisers include Goldman Sachs, First NZ Capital and Deutsche Bank.
The receiver's fees to date total $3.7 million. There have also been $1.9 million worth of legal fees racked up and $133,140 of other adviser fees.
SCF collapsed into receivership on August 31 last year triggering a $1.6 billion taxpayer funded payout to 35,000 of the company's investors under the Crown retail deposit guarantee scheme.
The Serious Fraud Office (SFO) revealed in October it was investigating five SCF related party loans made between 2005 and 2009 for potential false statements or other fraudulent conduct.
The Crown also loaned SCF $175 million to pay preferential creditors, including the Pyne Gould Corporation subsidiary Torchlight. This has been repaid with $4.1 million of interest.
The Government recently raised its expected losses to the taxpayer from the Crown retail deposit guarantee scheme by NZ$331 million to about $1.2 billion.
About $300 million worth of the increase was attributed to about 30 SCF related party loans, notably involving SCF's parent companies, and fellow former Allan Hubbard controlled entities, Southbury Corporation and Southbury Group.
Meanwhile, Downey has previously said that McGrathNicol has shared information with the SFO relating to "some monies that were directed to Hubbard for investment with specific instructions as to where the monies were to be invested and they were not invested that way."
The second receiver's report gives no estimate of likely returns to the Crown.
Meanwhile, a separate receiver's report - for SCF subsidiary Belfast Park - reveals the rezoning of rural land on the outskirts of Christchurch to enable residential development there is being appealed.
McGrathNicol says it's defending the appeal. Downey said last month interest from both property developers and the government in 64 hectares of land SCF controls on the northern outskirts of Christchurch through Belfast Park has increased since the devastating February 22 earthquake.