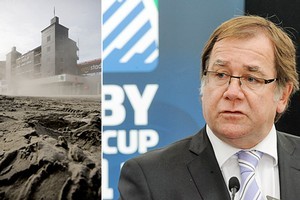 Christchurch has been stripped of its seven Rugby World Cup matches due to damage at AMI Stadium following last month's earthquake.
AMI Stadium was set to host five group matches and two quarterfinals during the World Cup which runs through September and October.
However, Rugby World Cup Minister Murray McCully announced this afternoon that the games will have to be moved to other venues around the country.
He said the decision was made with "great regret".
Auckland will now host the two quarterfinal matches while "as many as possible" of the pool matches will be kept in the South Island.

Existing ticket holders will be offered refunds or tickets to the reallocated matches. For information visit www.rugbyworldcup.com/tickets.
Mayor 'gutted'
Christchurch Mayor Bob Parker said the decision would be a further blow for a city still reeling from the February 22 earthquake.
But he accepted it had been made after long consideration and with the best interests of the Rugby World Cup in mind.
"That's something that a man needs to know.
"We're facing a long hard winter here in this city of ours. We were looking forward to a spring that would be brightened by having the Rugby World Cup here in our city.
"From my heart I will probably always find this decision hard to accept... and hard to agree with at some level.
"But this is bigger than Christchurch. It is about our country."
Stadium could be repaired in time
Mr McCully said while the stadium could be repaired in time for the Cup, insurance cover would be placed at risk.
"Complete replacement of the turf at AMI Stadium is required. We have been advised that would be a tightly managed six-month long project to replace it and that the turf was uninsured.
"The Rugby World Cup games commence in six months from last Wednesday. Any further damage to drainage under the turf places that timetable at risk," he said.

"Even if all of these difficulties were overcome, there is no guarantee that insurance arrangements, including public liability insurance, will be available on acceptable terms, especially if aftershocks continue."

There were also concerns about the amount of accommodation available for those travelling to see the Christchurch games, said Mr McCully.
"No one consideration drove today's decision," said Mr McCully. "The risks and uncertainties were unacceptable for what will be the largest sporting event New Zealand has ever held.
"For an event as important as the Rugby World Cup, we need certainty and, unfortunately, the only way to achieve that certainty was to agree to move the games," said Mr McCully.
He defended the length of time it had taken to make the decision, saying engineering reports had only been received on Monday.
There had been "significant" debate in the ensuing two days, he said.
International Rugby Board chair Bernard Lapasset, who travelled to Christchurch for today's announcement, said there was no guarantee AMI Stadium would be ready for kick-off in 25 weeks time.
"It has been a hard decision, but it is a decision that all partners agree is in the best interest of the tournament and New Zealanders as this great city begins the rebuilding process," said Mr Lapasset.
"We now have a lot of work to do."
Rugby World Cup chief executive Martin Snedden said the quarterfinal matches would be held in Auckland at the same time as they had been scheduled for Christchurch.
He considered hosting the matches in Dunedin or Hamilton, but said the stadiums in those centres could not fit the more than 35,000 people who had already bought tickets.
"The capacity of the stadiums in Dunedin and Hamilton worked against them.
"In the end it was a pretty straightforward decision."
Mr Snedden said rescheduling the Christchurch matches would present huge difficulties with such a short time until the tournament starts.
"This situation that's arisen is obviously a massive issue for the tournament. It is one that we will cope with. We will make sure that in 177 days time that New Zealand is ready to go.
"We'll make sure it's a tournament that New Zealand will be proud of."
Australia, England and Argentina were all set to play twice at AMI Stadium while the fourth quarterfinal would mostly feature the All Blacks if they finished top of Group A.
The Crusaders, who use AMI Stadium as their home venue for the Super 15, have already moved two 'home' fixtures to Nelson this season and plan to play their next two against the Sharks and Bulls in London and Timaru respectively.
Today's announcement was made after International Rugby Board (IRB) representatives met in Christchurch.
$4.1m package for AMI Stadium
Mr McCully announced the Government will grant $4.1 million to allow the turf repair work to commence immediately at AMI Stadium so it will be ready for next year's season.
"The stadium is an important sport and recreation asset and revenue earner for the region, and I am pleased that we can assist to ensure it is repaired as quickly as possible," he said.

There will also be a special travel package for Christchurch fans who have bought quarter final tickets to get to Auckland on a concessional basis, he said.
"This will ensure that Christchurch people who purchased tickets for what they believed to be a local game are able to travel to the quarter finals on an affordable basis," he said.
For those in Christchurch, there will be a full programme of fan zones with large screens and public entertainment.
Decision widely predicted by British media
Cabinet minister Steven Joyce earlier said IRB officials wanted to be as fair as they could in making the decision - which is why they were talking to the Government about it.
"They want to make a decision with everyone around the table coming to the same decision, if at all possible," he told Newstalk ZB's Mike Hosking this morning.
The IRB had the final say on whether the scheduled games would go ahead.
Before the announcement, international reports had said the IRB had already decided to rule out Christchurch as an option.
A senior International Rugby Board source told Britain's Daily Telegraph an engineers' structural report of AMI Stadium, due to be published this week, was expected to be "bleak", and the city would lose its hosting rights.
The Telegraph website reported the stadium had sustained not only serious liquefaction to the pitch, but said the engineer's report would confirm structural damage to the stands.
The Telegraph also reported the English rugby team, who were to be staying at the damaged Crowne Plaza hotel, are now likely to be based in Auckland for the tournament, which begins in September.
Matches scheduled for Christchurch:
Saturday September 10 - Argentina v England
Sunday September 11 - Australia v Italy
Sunday September 18 - England v Georgia
Sunday September 25 - Argentina v Scotland
Sunday October 1 - Australia v Russia
- "as many as possible" will remain in South Island
Saturday October 8 - Quarterfinal 2
Sunday October 9 - Quarterfinal 4
- to be moved to Auckland
- NZ Herald staff