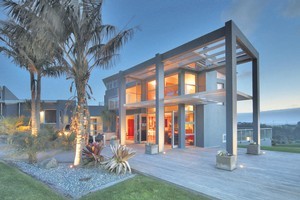 The Bank of New Zealand stands to lose more than $1 million on the mortgagee sale of a large architecturally-designed home and lifestyle block in Bombay.
The 11.6ha block - with a 460sq m house, tennis court, hobby chalet and views to the Manukau Harbour - is likely to sell for significantly less than the $2.63m mortgage the BNZ has over the property. Its current capital value is $1.6m.
Through his company Madlan Investments, developer Anthony Keane bought the property for $355,000 in 1999 and built his family dream home there around 2000.
"He wanted a house that had great significance to him and his family," said architect and friend Peter Hill.
The home was immaculately built with jarrah floors, double glazing, a large living and dining area and a children's wing, Hill said.
Keane put Madlan Investments into liquidation late last month after the BNZ's move on the Razorback Rd property.
It was the company's sole remaining asset, the first liquidator's report said.
The Inland Revenue Department was also owed $537,000. The book value of the Bombay property was $2.46m but it was estimated it would realise just $1.4m, the liquidators said.
Pukekohe real estate agent Gary Schellack said many lifestyle blocks were for sale in the area and people were not moving to the country as they had before.
"There's a lot of property that's been on the market for sometimes up to two years."
Banks often required deposits of up to 50 per cent on blocks of land over 10ha.
However, mortgagee sales usually attracted a lot of interest, he said.
In 2005 Keane and his company Financial Options Group were warned by the Commerce Commission that their Auckland house buy-back scheme may be breaching the Credit Contracts and Consumer Finance Act and the Fair Trading Act.
The commission said it had longstanding concerns about buy-back transactions, in which a homeowner transferred ownership of a property to the buy-back operator. Companies Office records show Financial Options has ceased to operate.