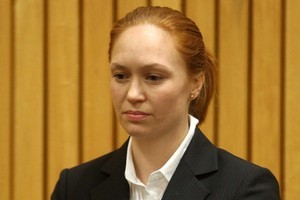 One of the accidental millionaires, Kara Hurring, has appeared in court.
Hurring, 31, appeared in Rotorua District Court this morning, facing one charge of theft of $6,782,000 from Westpac Bank in 2009.
She is also charged with eight counts of money laundering of varying amounts ranging from $361,000 and $500,000 at Auckland. These charges relate to a period between April 28 and May 5, 2009.
Court documents show that Hurring was co-accused on each of the charges with the still at large Hui (Leo) Gao.
Hurring, who turns 32 next week, appeared in the dock wearing a neatly tailored black suit, a white shirt and her chestnut hair was neatly tied back in a ponytail. She appeared composed as her counsel Simon Lance asked for her to be further remanded.
Judge Jocelyn Munroe ordered that she reappear in the same court on March 21 and remanded her on bail.
Her bail conditions remain suppressed.
Hurring did not answer questions other than to say she was fine, when questioned outside of court with her lawyer Simon Lance.
Mr Lance said she intended fighting all the charges.
He said it would be inappropriate for him to make any further comment and asked reporters to respect Hurring and her family's privacy.
Runaway millionaire returns
Police greeted Hurring at Auckland International Airport last month, when she returned voluntarily following a 22-month investigation into the high profile case.
A $10 million overdraft was mistakenly loaded into Leo Gao's account and it's alleged he and Hurring transferred nearly $7 million of it into other accounts before fleeing the country.
Hurring appeared in the Manukau District Court a fortnight ago.
- with NZPA