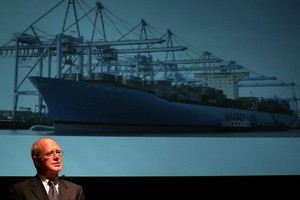 Port of Tauranga lifted half-year net profit 23 per cent to $28.4 million, as trade volumes in the six months to the end of December rose 18 per cent from a year earlier.
Revenue rose 38.5 per cent to $92.8 million, with export volumes up 13 per cent and imports up 29 per cent from a year ago. Notable cargo increases included fertiliser up 150 per cent, stock feed supplements up 74 per cent, log exports up 15 per cent, and container numbers up 23 per cent, the port said yesterday.
Chairman John Parker said the trading outlook was uncertain and it remained difficult to accurately forecast the remaining half of this financial year. At this stage, a full year result in the range of $53 million to $56 million was expected.
"We expect improved confidence to remain in the dairy sector [positively impacting on fertiliser and stock feed supplement imports] and also in log exports, with log volumes being driven by strong demand from China, which is expected to continue.
However, we expect the domestic economy to be slower to recover."
During the half-year, railed container volumes between Tauranga and inland port MetroPort Auckland rose 56 per cent.
Ship departures increased 12 per cent compared to the earlier corresponding period. An interim dividend of 10c per share is to be paid.
PORT OF TAURANGA
* Revenue: $92.8m, up 38.5 per cent
* Profit: $28.4m, up 23 per cent
- NZPA