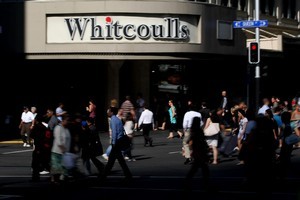 It will be at least six weeks before creditors of Whitcoulls and Borders New Zealand get a chance to vote on a plan to keep the company from going into liquidation.
Australian-based owner REDgroup Retail appointed Ferrier Hodgson to take over the management of its businesses in New Zealand, Australia and Singapore late on Thursday.
The company owns 260 stores in the three countries, including the 60 Whitcoulls and five Borders outlets in New Zealand and the Angus & Robertson chain in Australia.
Around 1000 people are employed by the company in New Zealand alone.
Ferrier Hodgson partner Steve Sherman said yesterday the first meeting of creditors would be held on March 1.
But it won't be until a second "watershed" meeting is held that the fate of the company is decided.
William Black, partner at McGrathNicol, who has handled a number of voluntary administrations in New Zealand, said administrators had 25 working days to hold the watershed meeting where a scheme of arrangement would be put to creditors.
But the timeframe could be extended by gaining court approval, and this was likely in the case of a big company like REDgroup.
The arrangement could involve a repayment plan or a compromise on the debt owed to creditors.
Staff and Inland Revenue are preferred creditors and paying them first will be built into any agreement.
The plan must receive at least 75 per cent approval by monetary value and more than 50 per cent by number of creditors to go ahead.
If it doesn't receive approval the company will go into liquidation.
Lowndes Associates consultant Mike Whale said it was hard to tell if the REDgroup administration would be a success. "It's early days. I doubt whether anyone will be able to assess whether it will be a success."
Both Black and Whale said voluntary administrations had had limited success in New Zealand.
Figures provided by the Ministry of Economic Development show there have been around 86 VAs since the option was introduced in November 2007.
But only 22 of those companies remain registered with the Companies Office and in operation. Most have gone into liquidation or receivership.
Whale said many New Zealand companies waited too long to call in administrators.
In Australia the process had been more successful because once a company is thought to be insolvent the board has two weeks to put it into voluntary administration or the directors become personally liable for certain debts.
New Zealand does not have this built into its law.
Black said typically the first step by an administrator was to talk to staff, particularly if the plan is to keep the company trading, as in the case of Whitcoulls and Borders.
A 14-day period was usually used to consider the staffing of the company and whether changes needed to be made.
Staff may then be offered new employment contracts.
While REDgroup wants to trade its way out of the situation, Black said he still expected the administrators to try and sell all or part of the business.
"It wouldn't be an unrealistic expectation."
Ferrier Hodgson's Sherman said it was too early to talk about what would happen to the business.
"Once we have had the time to gain a better understanding of the financial state of the business and where it stands, we will have more to say.
"We appreciate the patience of customers, suppliers and particularly employees who are continuing to support the business in very difficult circumstances."