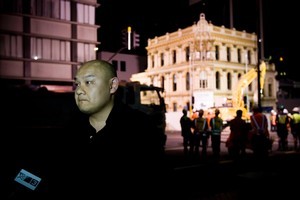 Brothel brothers John and Michael Chow have stepped up their campaign to force the Auckland Council's hand on a report into the demolition of the Palace Hotel that it is keeping secret.
The 124-year old building in Auckland's CBD was reduced to rubble after the building was deemed unsafe by council inspectors last year.
The Chows purchased the building for $3.3 million in 2008 and were renovating it for use as a brothel, when cracks starting appearing in its walls in November last year.
They have now erected a billboard on the site of the former hotel which attacks council chief executive Doug McKay's handling of the decision to knock down the building.
Two similar billboards are already attracting attention in Wellington, where the Chows are based.

"Well done Mr Doug McKay, CEO of Auckland Super City Council," the billboards read.
*Less than 1 month in power, Auckland Super City Council.
*4 hour turnaround on a decision to demolish 124 yr heritage landmark.
*1 hour to raze the building to a pile of rubble.
*Yours Truly, Auckland Super City rate payer.
Auckland Mayor Len Brown said last year that he would keep confidential a preliminary report on a council decision to knock down the building after threats of litigation by the brothers.
The Chows said they had consulted their lawyers who had given the council 20 working days to hand over the report, or they said they would see the council in court.
Council spokesman Glyn Walters said a separate investigation report is underway and will be made public.
"A report on the Palace Hotel collapse is currently being written and compiled by independent experts."
"Once it is concluded it will be provided to the mayor and councillors and will then be made public," Mr Walters said.
He said the report should be available "within weeks".