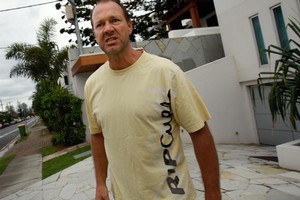 In olden times, the mob would deliver justice via the guillotine and celebrate the deed by parading the guilty person's head on a pike.
Now we live in a much more civilised time. We rely on the authorities and the justice system to satiate the demand for redress.
When the public doesn't feel justice is being done, or there's a delay, it relies on the media to expose wrongdoing.
In New Zealand there has been a delay, at best, in justice being seen to be done on the issue of finance company collapses.
I've calculated there have been 62 finance companies and investment trusts that have had assets frozen or have collapsed in the past four years. That's more than 200,000 account holders and at least $8.575 billion frozen or lost in these companies and trusts. We estimate losses at about $3.1 billion and counting.
I remember the evening 4 years ago when National Finance 2000 was put into receivership. I had been expecting finance companies to start collapsing and had warned in 2005 this was possible, but even I have been surprised at the depth and speed of the collapse of an entire sector. The recklessness, excesses and greed have been stunning. But, until Five Star directors Nicholas Kirk and Marcus MacDonald were this week jailed for lying to investors, not a single finance company executive had spent a single night behind bars.
John Gray, the former accountant for National Finance 2000, has been sentenced to 18 months' jail for theft, but is out on bail appealing the sentence. He wants home detention.
Various prosecutions are still grinding their way through the legal system and the Serious Fraud Office has set a furious pace in recent months, announcing investigations and charges almost daily. Adam Feeley appears to have transformed the activities of the SFO. Yet almost no one has spent time in a locked room with a "real" criminal yet.
Evidence of abuses, deceptions, sharp practice and outright fraud have been widespread. Details about endemic related-party dealings, capitalising loans, rampant over-valuations and money-go-rounds are now legendary.
This is why the New Zealand Herald's front page treatment of Hanover Finance shareholder and director Mark Hotchin has proved so popular. The Herald on Sunday has also led the charge on Hotchin coverage this year. The NZ Herald sent a reporter and a photographer to the Gold Coast to find out what Hotchin's lifestyle was like and ask him about the Securities Commission's decision to freeze his assets, or at least the ones it could see in New Zealand. The picture of a snarling Hotchin telling them to leave him alone will, I hope, been seen as the photo of the year. It captures the man perfectly.
Hanover spent large parts of 2005, 2006 and 2007 trying to stop reporters from publishing articles critical of the company. Their legal threats and bullying against media who tried to report their affairs was legendary. On the whole, those threats were effective.
More than 13,000 investors lent more than $465 million to Hanover, thanks to marketing and interest rates slightly higher than bank interest rates. Now those investors are ruined.
They have received back 6 cents in the dollar and will be lucky to get much more, now they have swapped their debentures for nearly worthless shares in Allied Farmers.
There are gut-wrenching tales behind the numbers. I have dozens of emails from devastated investors. I have spoken to many. This event has ruined the financial lives of thousands of people. It has torn families apart. It has destroyed retirement plans.
Parents who hoped to pass on the money to their children have been thwarted. Money for much-needed medical treatment is gone. Long-dreamed-of trips to spend time with grandchildren are gone.
No wonder people welcome embarrassment being visited on Hotchin by a reporter and a photographer. It is the least he should receive.
Hotchin and his business partner Eric Watson should be booed by the crowd at Mt Smart stadium if he ever dares to return home to watch the Warriors play on home turf.
Meanwhile, the wheels of justice turn, albeit slowly. The unprecedented decision by the Securities Commission to freeze Hotchin's assets is welcome. As is the Serious Fraud investigation into his affairs.
Some observers, including media personality Kate Hawkesby (via Twitter) have questioned the NZ Herald's reports, arguing it wasn't real journalism.
The media's role is to challenge the powerful, report on their actions and reflect the mood of its community. The New Zealand Herald and the Herald on Sunday understand the mood of the community on this one. It is one of frustration, anger and barely suppressed vengeance.
A picture in a newspaper is far preferable to what would have happened centuries ago. Whether Hawkesby likes it or not, the media's role is to name and shame and hold the powerful to account. This is one way of doing it.
But the best result will be justice in the courts.
I agree with Hotchin there.
bernard.hickey@interest.co.nz