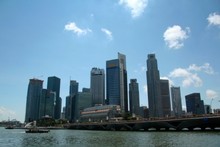 The proposed A$8.4 billion merger of the Australian Stock Exchange and Singapore Stock Exchange has got past its first hurdle after being given the thumbs-up by Australia's anti-trust watchdog.
As expected, the Australian Competition & Consumer Commission didn't raise any objection to the merger, with chairman Graeme Samuel saying the SGX's joint venture with Chi-X Global to set up a so-called 'dark pool' bourse for ASX listed securities wasn't a barrier to the deal.
Dark pools give traders the ability to make buy and sell orders that aren't transparent to the market to avoid price movements before they're completed.
"The ACCC found that the joint venture relationship between SGX and CGX would not alter (Australian JV) CXA's incentives to establish a lit trading venue in Australia and noted that SGX has no economic interest in CGX," Samuel said in a statement.
"For the ACCC to oppose a merger, it must substantiate a lessening of competition that results from the proposed acquisition itself."
The bid, which has the backing of both boards, still needs approval from Australia's Federal Government and will face strong opposition from MPs.
Australian Treasury Secretary Wayne Swann said policy-makers will ensure the ASX's "market integrity" is maintained.
The deal isn't expected to be good news for New Zealand's stock exchange and would probably marginalise an already shallow capital market.
The ASX attempted to take over the New Zealand stock exchange in 2001, and was rebuffed, largely on national interest arguments. NZX Ltd., which runs the exchange today, floated subsequently and the issue of a merger has not been on its agenda.
Shares of NZX rose 1.4 per cent to $1.47 today and have dropped almost 40 per cent this year.
ASX shares were last at A$38.50 on its own bourse.