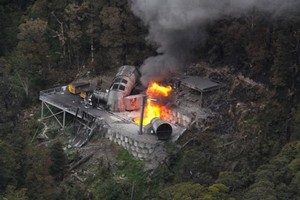 Receivers for Pike River Coal are making 114 of its employees redundant immediately, but say there are sufficient funds to pay the maximum required by law.
PricewaterhouseCoopers receiver John Fisk said the workers were eligible to be paid up to the $18,700 statutory maximum for wages, holiday pay and other entitlements.
There was still some doubt over the payment of bonuses.
The total number of staff employed by Pike River was about 157, excluding the 29 men who died in the mine, 13 of whom were contractors.
Mr Fisk said although there were limited funds there was enough money to pay employees their statutory entitlements.
"One thing we need to do is to understand what the full extent of all the entitlements are," he said at a press conference in Greymouth this afternoon.
"We can have a talk with secured creditors (BNZ and New Zealand Oil & Gas) to see whether anything more than the preferential entitlements can be paid. It could be possible to pay more," Fisk said.
There was about $9 million in cash and "significant" ongoing costs of the business.
"That's why it's important to get the support of the police."
A letter will be available to each employee outlining their severance arrangements today.
Mr Fisk said the dozens of suppliers and contractors were unsecured creditors and their debt was frozen at the date of receivership and there was doubt about how much could be recovered for them.
Pike River Coal was placed in receivership yesterday morning.
The receivers met miners at 9am today to discuss worker entitlements.
The mine has not been operating since the first of a series of explosions ripped through it on November 19. The bodies of the 29 miners remain in the mine.