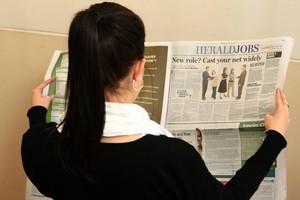 Nearly 3000 New Zealanders went broke in the year to June because of losing their jobs.
An analysis by the Insolvency and Trustee Service [ITS] shows that in 42 per cent of personal insolvency cases last year, unemployment or loss of income was the major cause.
A total of 6426 people were declared insolvent in 2009-10, an increase of 14 per cent on the previous year.
The next most significant reason given for going broke was relationship failure.
Of all the insolvency applications accepted by the ITS in the past year, 47 per cent were No Asset Procedures - the alternative to bankruptcy brought in two years ago that allows people with consumer debt of less than $40,000 to wipe the slate clean.
More than half of those accepted for the NAP regime said losing their jobs or income were the main reasons for their situation.
More women than men entered the NAP regime, and more women under 40 were insolvent.
However, this reversed in the over-40 age group, with more men than women declared insolvent and a much greater proportion of males (77 per cent) than females bankrupted following a petition by a creditor.
John Roberts, managing director of credit reporting bureau Veda Advantage, said the main reasons for going broke were job loss, sickness and marital breakup. "They're the three key events."
The large number of NAPs and younger people becoming insolvent was being reflected in the number of bill defaults the credit bureau was seeing, "especially for this year among what we call the Generation Y, the 28 years or younger".
It was because of a combination of credit card debt and hire-purchase deals with two- and three-year no-payment, interest-free periods.
"And then suddenly the payments have come home to roost and they haven't been able to meet their commitments and so they've applied for No Asset Procedure."
The ITS figures show that 161 of its debtors last year had between five and nine credit cards, and another handful had more than 10. Roberts said when people got into a debt spiral they often began "credit surfing" - applying for more credit so they could pay off existing cards. "A very high percentage of people actually tell porkies on their [credit card] application forms."
There was no way of knowing how many lines of credit people had, therefore the industry was supportive of the Government's planned move to "positive" credit reporting which would allow agencies to have more information about people, he said.
Roberts said insolvency affected all ethnic groups. The ITS figures show the largest group of those becoming insolvent last year were New Zealand Europeans, at 58 per cent, followed by Maori at 18 per cent.
It was quite often middle-class, white-collar people who had large credit card limits and who had borrowed against their homes to buy consumer items who became insolvent, he said. "When they lose their jobs they're hit the hardest."
A survey by credit bureau Dun and Bradstreet in July last year found that nearly half of the people asked could not survive more than a month if they lost their job.
New Zealand GM John Scott said this highlighted the "hand-to-mouth" existence many New Zealanders had.
The No Asset Procedure figures reflected the fact that the new regime was being seen as a good way out of financial strife. But debtors had to remember that it stayed on their credit record for five years. "People need to think long and hard before they take this route."
The economic recovery had been lower and slower than following previous recessions and the bureau predicted there could be another rise in unemployment in the current quarter, he said.
Roberts said Veda Advantage believed there would be another six months of pain before insolvencies tailed off.
Out of pocket
* No Asset Procedure: when you owe less than $40,000, have no assets and have never been insolvent. Lasts one year.
* Bankruptcy Debtor Petition: filing for bankruptcy. Lasts three years.
* Bankruptcy Creditor Petition: when someone you owe money to asks the court to adjudicate you bankrupt. Lasts three years.
* Summary Instalment Order: when you owe less than $40,000 and reach an agreement with creditors to repay some or all of the money. Lasts three years.