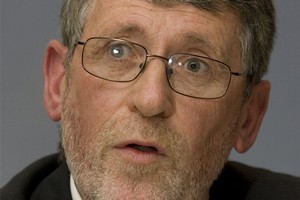 More can be done to improve the tax system to promote economic growth, Treasury secretary John Whitehead says, in a speech which also addresses youth unemployment and regulations that limit bio-technology as issues.
Whitehead also talked of the need for more private sector saving, the high cost of educational failure and he referred to a speech last week in which he called for change to what government does and how it does it.
On Monday New Zealanders were reminded about the current heightened state of focus on country and government debt profiles when Standard & Poor's revised its outlook on the foreign currency sovereign credit ratings of the Crown and six Crown-owned entities from stable to negative, he said.
"The decision by S&P highlights that international ratings agencies, and financial market participants, seek re-assurance that New Zealand's net external debt position will strengthen in the years ahead."
He said increased private sector saving, together with a turnaround in Government's current fiscal deficit, would help to reduce New Zealand's vulnerability.
Increased saving would also reduce inflationary pressure, which would help to reduce upward pressure on interest and exchange rates.
"This would in turn help to boost business investment and, importantly in the context of our need to encourage a re-balancing in our economy, it would encourage a reorientation towards the tradable sector."
Whitehead said tax was one of a number of important policy areas. Although the company tax rate was reduced to 28 per cent in the Budget, it was not low by international standards.
The Savings Working Group was looking at a range of options for reforming capital taxation as a means of promoting savings and investment.
"And, as you are probably already aware, the Treasury has previously explored the introduction of a capital gains tax as a means of removing significant distortions from the tax system."
Treasury believed that both the Resource Management Act and the Hazardous Substances and New Organisms Act (HSNO) were inhibiting growth.
The number of genetically modified organism trials and outdoor developments spiked significantly just before HSNO came into effect, and has diminished following its introduction.
"These trials and outdoor developments are critical for innovation in biotechnology, a rapidly developing field where New Zealand has significant expertise. However our regulations under HSNO are more restrictive than a number of other countries," he said.
Treasury was concerned that one in ten 15 to 19 year olds were not in education, training or employment.
"Our judgement is that urgent steps are needed to address these shortcomings. We need to lift teacher quality in order to raise the performance of students across the whole school system."
Tertiary education settings should prioritise participation and completion of studies by young people and resources could be better targeted at those most at risk of poor education outcomes.
"Higher skills ensure that people have the opportunities to participate fully in both the workforce and society. Educational failure imposes a high cost on all of society, and that is something we must strive to avoid," he said.
- NZPA