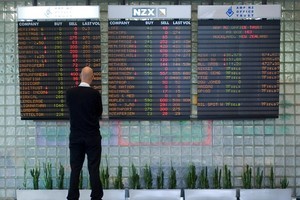 Share investing is a scary prospect for many New Zealanders.
Everybody seems to know someone who was burned during the 1987 sharemarket crash or even the latest global financial crisis.
We are infamous as a nation of bricks and mortar investors. But 1.2 million Kiwis are already investors in shares through KiwiSaver.
If you are in KiwiSaver you will probably own a small stake in Fletcher Building, Telecom and Contact Energy - the largest listed companies on New Zealand's stock exchange.
Investing through KiwiSaver in what is called a managed fund does not require much in the way of decision-making, unless you want to switch to another provider or change the type of fund you are in.
But those who invest directly in shares say it requires careful research and monitoring.
Owning shares is essentially about owning a piece of a company.
You wouldn't invest in a cafe without finding out more about how much money it was making, how much potential it had to earn more and what sort of person the manager was.
Likewise, once you had put your hard-earned cash into the business you wouldn't just forget about it and hope it did all right.
Arthur Lim, a former investment banker who now provides advice for wealthy individuals, says beginner investors need to start by arming themselves with as much information as they can get.
"The sharemarket is not a casino," he says.
A good place to start can be broker websites and that of stock exchange operator NZX, which all have educational information.
"It's amazing how many people don't do their homework. That is critical ... investing in the sharemarket is about taking risks, which is why you get the higher returns."
Lim, who started out investing in shares through a share club in his first job as an accountant, believes there is a place for all investors.
"If you go to countries like America, people buy shares as a matter of course in terms of saving and asset planning. In the US, people talk about their grandparents buying shares for them. In New Zealand we don't have that culture."
But Retirement Commissioner Diana Crossan says not everyone will be prepared to take the risks or have the patience to make the right decisions.
The commission, which runs money website Sorted.co.nz, recommends people work out how much risk they are prepared to take and how much money they would be prepared to lose. A risk calculator on the website can help people assess what level of risk they are prepared to take and will point them towards appropriate investments.
Crossan says people assess risk all the time. "When buying a washing machine they consider how much to spend depending on how long they want it to last. Or buying a car - buying a car cheaply risks the fact it will break down.
"My biggest concern is that people get advice."
The reputation of financial advisers was tarred by the collapse of the finance company sector. But new regulations mean all financial advisers will have to meet minimum qualifications and belong to a dispute resolution scheme.
Crossan says finding an adviser is like choosing a dentist, and is about asking friends and family to find someone they recommend.
The Sorted website also offers a check list that people can refer to when looking for an adviser.
One problem people can face when looking for advice is that many firms are not interested in giving personalised advice unless the person has more than $100,000 to invest.
Lim says most full-service brokers have a reasonably high cost base to cover regulation and compliance costs, and the set-up costs are too expensive for them to want to deal with small investors.
"Even if you open an account with them, sadly you will be the last person on the list who they will call and if you ring through you will hardly get any time."
The cheapest way to buy shares is through online broking services such as those run by ASB Securities or ANZ-owned Direct Broking.
One way of getting access to information that you might not otherwise be able to afford is to invest in managed funds, which pool investors' money and invest it across a range of companies.
Fund managers can get access to research and opportunities that might not be open to individual retail investors.
But you also have to do your homework on fund managers.
"Don't rely on the propaganda from the fund manager. Everyone will tell you how great they are and everyone will pull out statistics to show you how good they are," says Lim.
"Don't rely on the headline numbers used to lure investors. Consistency of returns is more important than being the star performer."
Investors can compare funds using alternative sources such as fund-rating companies Morningstar and Fundsource.
Paul Glass, principal of fund manager Devon Funds Management, says the biggest advantage of managed funds is that you can diversify your investment into a large range of shares for as little as $2000.
"When you invest in a managed fund you are employing a professional whose job is to look after your investments."
The disadvantages are that they charge a fee to manage your money and you won't be in control of where it gets invested.
There is also varying degrees of transparency across the industry over both fee disclosure and exactly which companies the money is invested in.
For those who want to go at it alone and invest directly, a disciplined approach is vital.
"Don't look at a company. The better way to do is to take a bigger view - a macroeconomic view, as if you were to start with a blank piece of paper. Which country would you invest in, which industry and which are the best companies in those industries?" says Lim.
Once you've zeroed in on a company look more closely at it. What does it do? What are its competitive advantages? How entrenched is the company in terms of its market position and what is its track record of maintaining its competitive position?
And who is running it?
"The most important ingredient is management," Lim says.
Deciding whether a company has good management can be hard to assess. But it's all about track record.
"It's about being able to manage through a crisis, and consistently. Every executive will make a mistake at some point - that is why a lot of weight is given to grey-haired managers. They have been around the block and learnt from it."
Glass, who has been investing in shares for 24 years, says companies need to have a balance of entrepreneurial flair and grey hair.
"If you get too much of one or the other it can create imbalances."
He says a golden rule for investors is, "don't invest in something you don't understand".
"That goes for everything, not just shares. Invest in a business that makes something or sells some product or service. If it has a complicated capital structure and you don't understand it, don't invest in it."
He looks for businesses with a robust model - a business that "a monkey could run" - because at some point there could be a monkey in charge.
Cashflow is also really important, says Glass. "Ultimately, a business is only worth the sum of its free cashflow. Accounting is a matter of opinion but cash is a matter of fact."
For those looking for a capital gain through the share price going up, Glass says investors should focus on businesses that operate in sectors with favourable growth factors, such as demographics or growth markets.
Alan Best, who runs the New Zealand Shareholders Association's education programme, says investors can start buying shares for as little as $500 a parcel.
"The beauty of share investing is that the minimum parcel you can buy is about $500."
Saving $500 a time to invest can allow the money to be drip-fed into the market, helping to even out the ups and downs.
While the markets have been very volatile since the global financial crisis, that also provides opportunities.
"If you want to build a stock into your portfolio, buy on the bad days. It's easy to buy on the good days," Lim says.
Investing in the sharemarket gives people a sense of ownership, he says.
"The sharemarket is a reflection ultimately of the country and its economy. Taking part in that economy gives a sense of ownership that lies at the heart of the sharemarket."
Our series continues in Monday's Business Herald where Anne Gibson looks at how to get started in property investing.