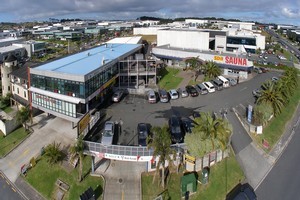 CB Richard Ellis has released a 52-page publication to the commercial property market entitled Investment Navigator that features investment properties from around New Zealand to suit a wide range of private investors, syndicates, family trusts and owner-occupiers.
Dominic Ong, CBRE's private client group national director, said the new publication had been launched at a time when the economy was recovering from its deepest contraction in 100 years.
"The investment market is improving against a backdrop of business confidence and consensus among economists that there will be strengthening growth for the rest of the year and through 2011," said Ong.
"Immigration, rebounding residential activity and the Rugby World Cup will underpin an improving New Zealand economy leading to sustained recovery in the commercial property investment market.
"Recent sales indicate investor and funder appetite is strong for properties with good quality, strong tenants and lease terms at prices within reach of a wide section of private investors.
Well leased commercial properties are a safe haven for investors in a tough market."
CBRE's associate director Colin Stewart said the investment market had become a private buyer's kingdom this year. "The shift in the buyer profile from predominantly institutional to private equity has meant we have seen some new players emerging and the reappearance of some established property players who have been inactive for some time.
"Private investors bought more than 70 per cent of commercial property assets for sale in the past year," said Stewart. "Lower priced assets are still in great demand by cashed-up investors who are taking advantage of favourable relative returns."
Featured in Investment Navigator are two substantial Auckland suburban motels, a North Shore health sauna and self-storage sheds in Paeroa.
Ong has the Epsom and Remuera motels for sale with the added bonus of development potential. The 1457sq m 23-unit motel with restaurant/bar and conference facilities and 32 car parks at 93-97 Greenlane East Rd, Remuera is for sale by private treaty as a going concern.
Rated as a Qualmark three star, the motel has a yearly turnover of about $555,000 and an occupancy rate of about 53 per cent.
Ong said the L-shaped property had two motel complexes plus a cottage in attractively landscaped grounds on the corner of Greenlane East and Ohinerau Rds. Both roads provide access to the property.
The configuration includes a two-and-a-half storey building with a restaurant/bar on the ground floor, conference facilities and four motel units on two levels at 93 Greenlane East Rd.
There is also a reception office, three bedroom manager's residential, garage, laundry, 18 studio motel units and a stand-alone cottage next to the building at 95 Greenlane East Rd. At Ohinerau Rd grass covers a foundation for a never completed accommodation block. The rest of the land is used for car parks.
Of the motel's 23 units, 18 are similarly fitted, with every second unit having an inter-connecting door so they can be let as one large family unit, three are double units and there is one two-bedroom unit.
Located on a prime Remuera 2627sq m site, the motel is opposite the Ellerslie Racecourse and Convention Centre, Novotel Hotel and Ascot Hospital and is handy to the ASB Showgrounds and Alexandra Park Raceway.
Ong said the property's location in a central, high-profile suburb made it suitable for repositioning or redevelopment. "The site lends itself to a number of different uses, including medical facilities. Within 2km is a major Auckland medical precinct, including hospitals, outpatient services, specialists' rooms and related businesses."
He said there were other opportunities for the site.
The second suburban motel complex sits on a corner site at 115 Great South Rd, Epsom, and has a fully licensed restaurant and bar. It comprises 21 studio units, seven spa units and two family units along with a two-bedroom manager's residence.
Ong said the 1980s-built freehold 928sq m motel in a quiet garden setting was for sale in time to maximise the windfall from the Rugby World Cup but its real value lay in its development potential.
"The property is zoned residential 7A under the Auckland City Council's District Plan and that gives a new owner the potential to redevelop the 2786sq m site into 13 townhouses in the school zones for Epsom Girls' Grammar and Auckland Grammar School."
Ong said the motel's restaurant and bar on the top level was licensed for 60 people and had good presence on Great South Rd. "The property sits in an established motel precinct between Newmarket and Greenlane and is in good condition."
The motel complex is for sale by private treaty closing on September 15 and the property has a rating value of $3.8 million.
At 6 Arrenway Drive, Albany, a specialist Korean spa, sauna and restaurant, is being sold by Stewart and colleague Jonathan Ogg.
Stewart said the property was being sold under receivership by tender closing on September 16. "The two tenants are on new five-year leases, returning a total rental of $201,000 a year. "This is a high yielding retail opportunity that will appeal to many investors."
The two tenancies are in a single-level building built in 2004 and covering 560sq m. There is also a 90sq m verandah and 26 car parks. "Sitting in Albany Heights, the property is a near rectangular shaped building partitioned into two main tenancies," Stewart said.
"The restaurant is in the front and had an open-plan dining area with an office, toilets and kitchen to the rear. The remainder of the building is occupied by the spa and sauna. Each changing room features timber lockers, the sauna area is timber lined and the bathing room features a large tiled spa pool of about half a metre in depth and a separate, larger 'green tea' bathing pool with adjacent showers."
Further south, in the northern Waikato Thames Valley, a well established Paeroa business, incorporating storage sheds, is for sale by auction on September 8.
CBRE's Hamilton managing director Theo de Leeuw, who is selling the business with broker colleague Russell Smith, said the business at Grey St generated about $90,000 a year. "The storage sheds covering 1116sq m have been operating since 2003 and there is potential to increase the rent to more than $150,000 a year," said de Leeuw.
Smith said the Paeroa Storage Sheds was the only facility of its type in the town.