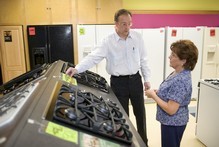 It doesn't matter where you go or what you sell, the top sales people have a set system and process for getting sales in the door. Or at least so says Jack Daly - and you know what?
I tend to agree. A set system or process ensures that the right things get done at the right time, this versus the alternative (an ad hoc approach) makes absolute sense.
Results.com invited Jack across from the states last week to talk sales & culture at the Ellerslie Racecourse - and kindly asked me to sit down with Jack the night before and interview him on sales. You can watch all the videos over here.

An absolute must for anyone in business.
Jack focuses intensely on the 'top 10 per centers' and really draws your focus to them, ensuring that we're all striving for the top. The top have set systems & processes that they take people through, understand their needs (what's hurting them, their pains), their problems and the opportunities that arise from that.
Then look at their motivations "what will motivate this person to do business with me" and finally look at the solution "here is what we can do for you and these are the benefits" - then of course you can get to the sale.
It's not as simple as that though, Jack drew the audience in, by looking at the systems behind all the different components. People do business with people they like and trust, the reason they don't buy from you is because of lack of perceived value or trust. If you have both of those your in a great position to be able to sell to them.
The hard sell is a fallacy, it's not what the top ten per centers do, they sell more to less people, quality over quality, in fact reading between the lines Jack's saying the hard sells are the poor performers.
Jack details further systems that he has used to develop high sales, his moneybag technique, role practice of sales teams in the office, each and every week (for at least an hour), making sure you get those 9 touches, dealing with first impressions, identifying the personality of the people your selling to, pipeline management. And from a Sales Managers point of view "things that get measured get done".
Social media was a huge opportunity for sales people, not to hard sell, spam people, but to get closer to their existing customers and closer to prospects. And to aid with referral marketing. As he rightly points out it leads to tremendous leverage. I recall interviewing Tom Peters a few years ago and he said the same - 80 per cent of his business came through his social media efforts (and that was over 2 years ago!).
The top takeaways for me were around: defining and building the sales systems, ensuring the perceived value and trust were set and especially focusing on why me? and why my company? Two basic points but often overlooked.
They key is to actually take action, execute on this, put in place the knowledge and make sure the right things get done.
Ben Young from bwagy ( is the author of The Best Ideas are Free and marketing director at Young & Shand.