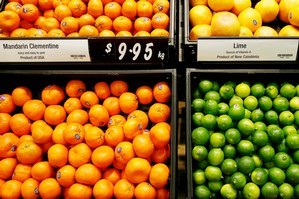 Australian retailing giant Woolworths is reporting higher supermarket store sales, but lower consumer electronic store sales in New Zealand.
Woolworths, operator of 152 Countdown, Woolworths and Foodtown supermarkets through Progressive Enterprises, said its supermarket sales here rose 5.2 per cent in the fourth quarter from a year ago.
The rise is 4 per cent on a comparable store basis.
Sales in its New Zealand supermarkets in the 52 weeks to June 27 totalled $5.2 billion, up 4.6 per cent on last year. On a comparable basis the annual rise is 4 per cent.
It attributed the sales increase to its transition to a single Countdown brand in New Zealand.
"It reflects the hard work of the New Zealand team to continually improve our customer offer through new formats, improved ranging, private label growth and improved in-stock position."
The company also owns the Dick Smith consumer electronics chain and said comparable annual store sales declined by 12.1 per cent in its New Zealand business in a weak economic environment.
Fourth-quarter sales in New Zealand decreased 7.6 per cent on a year ago. On a comparable basis, the drop was 11 per cent.
In Australia, the company's brands include Woolworths, Safeway, Dick Smith Electronics and PowerHouse, Tandy, Woolworths Liquor, BWS, Dan Murphy's, Big W, Woolworths HomeShop, ALH Group, with Everyday Money and Everyday Rewards also under its umbrella.
In New Zealand, it is one of two large operators that dominate the supermarket sector, the other being the locally owned Foodstuffs.
This month, the Green Party and Horticulture New Zealand called for a code of conduct and an ombudsman to investigate prices after fruit and vegetable growers complained of high supermarket mark-ups.
- NZPA