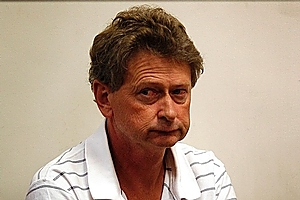 White-collar crime in the first six months of this year hit a record high of $72 million - more than for the whole of 2008 - a survey released today reveals.
The Fraud Barometer report, conducted every six months by international auditing firm KPMG, shows that more fraudsters are stealing more money than ever and the statistics are expected to get even worse.
KPMG forensics partner Stephen Bell said that based on fraud cases in which $100,000 or more was stolen, the average fraud reaching the courts was now $2.7 million.
"It is very high ... it's the highest it's been," he said.
"In the six-month period ending December 2009 it was about $2.3 million.
"Already frauds in the first six months of 2010 have exceeded all of 2008."
Mr Bell said the figures were expected to get worse because some high-profile cases, including a $167 million alleged fraud from within Capital + Merchant Finance, had not been added to the latest figures because the cases had not completed the court process.
"We expect 2010 to be a record year ... we think that not all of the impact of the economic downturn has been seen yet.
"I think fraudulent loans largely have been an outcropping of the economic downturn because credit is tighter ... money's tight, credit is tight and people are trying to create fictitious loans, perpetrate accounting scams. There's still a tremendous amount of greed out there and people want to keep up their lifestyles and they'll find ways to do it."
Mr Bell said many frauds were carried out by staff who used tactics including manipulating accounting systems by setting up fake customers and vendors.
Instead of placing money into the "customer's" account, the fraudsters diverted it to their own.
"That, typically, is perpetrated by a management-level person who can steal more money just because they have access to more information, they understand how to override internal controls, they can tell other people what to do and they're not going to be questioned [or] they're less likely to be questioned."
BIG-DOLLAR CASES
* Stephen Versalko, 52, is serving a six-year prison term for stealing $17.8 million from 30 wealthy clients during a nine-year period while he worked for ASB Bank.
* A 54-year-old company director is before the courts on 62 charges laid by the Serious Fraud Office which total $47.8 million. Between 2003 and 2008, the property developer allegedly organised a scheme where he used relatives and associates as fronts to get millions of dollars in loans.
* Criminal charges and civil proceedings against five management staff from failed finance company Capital + Merchant Finance are ongoing. The company has been under investigation since it went into receivership in November 2007, owing $167 million to about 7000 investors.
TOP FRAUDS
$51m Fraudulent loans
$9m Accounting fraud
$7m Investment scam
$3m False invoicing
$682,000 Tax evasion