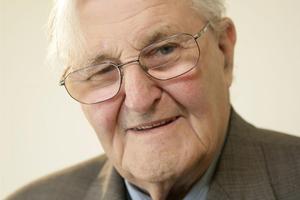 Supporters of embattled financier Allan Hubbard are fighting to help clear his name and have kicked off with an advertising campaign.
The Government moved on Sunday to appoint statutory managers to Aorangi Securities Ltd and the business interests of Hubbard after a complaint from an investor. The move is rare and has had ramifications for South Canterbury Finance (SCF), a company associated with Mr Hubbard, but not in statutory management.
Half-page advertisements rallying support for the 82-year-old Timaru businessman will appear in the country's three biggest newspapers over the next two days. The first appeared today in The Press newspaper.
"Allan Hubbard has helped many people and organisations over the last 50 plus years. He has donated some $200 Million over the last 15 years alone.
It is now our turn to help Allan and his wife Jean," the advertisement reads.
The ad calls on people to email Prime Minister John Key or Commerce Minister Simon Power telling them what the Hubbards have done for them or to record their story on the Facebook fan page "Help Allan Hubbard".
"Mr Hubbard has a long and solid reputation of meeting all his commitments and the officials in Government need to be made aware of the contribution the Hubbard's have made to NZ organisations and citizens," the advertisement says.
Fronting the campaign is veteran rescue pilot John Funnell who received funds from Hubbard 30 years ago which allowed him to set up a helicopter business which has saved hundreds of lives through its Taupo-based emergency operations.
He told NZPA other supporters were apprehensive about speaking up because "they were not sure about the power base at SCF" and as some of them owed quite a bit of money they did not want to jeopardise their loans.
"Because I'm not in that situation, I'm happy to front it for them."
Funnell said he had no doubts about Hubbard's integrity.
"I will be very disappointed and most surprised if there's any mis-accounting of any money on behalf of Mr Hubbard. He's just not like that.
"I have done the Funnell smell test and that said something is very wrong, and it is not in the Hubbard camp."
Funnell spent yesterday on the phone to other supporters who put the advertising campaign together.
He said he had not spoken to the Hubbards but he understood it was not money which was needed, but support.
"For the Government to take this action there will be some issue there, but I suspect it could be an overreaction on the part of the person who has allegedly made this complaint and it is quite possible it is of a technical nature. I think at worst that's what it's likely to be."
Timaru lawyer Edgar Bradley, a long-time friend of Mr Hubbard, was another staunch supporter.
"If a sometime criticism of Allan is a lack of documentation then it must be remembered he is a product of the days when trust was more important than paperwork. Sadly the reverse is now the case."
Serious Fraud Office (SFO) chief executive Adam Feeley said four members of his office, including himself, left Timaru on Tuesday, having secured all the information they believe they need for their investigation.
- NZPA and Herald Online