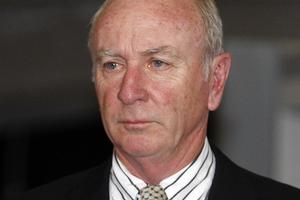 It will be more than a year before Rod Petricevic and other Bridgecorp directors face trial on charges laid under the Securities Acts.
Directors Petricevic, Rob Roest, Gary Urwin, Peter Steigrad and Bruce Davidson were committed to trial last month after pleading not guilty to Securities Act breaches during a depositions hearing at the Auckland District Court.
Yesterday, their trial was set to begin on July 4, 2011.
The Crown yesterday laid additional charges under the Companies and Crimes Acts against Petricevic and Roest relating to their roles in issuing a company prospectus. They have pleaded not guilty to these charges.
All the directors have pleaded not guilty to the 10 Securities Act charges they each face.
The prosecution alleges the directors lied to prospective investors in Bridgecorp's term investment prospectus, registered on December 21, 2006, in an investment statement and advertisement.
It is alleged Bridgecorp said it would only lend in accordance with good commercial practice and that it had never missed an interest payment.
During the depositions hearing, a former staff member told the court that Bridgecorp employees were told to lie to investors when they called asking where their payments were.
A computer glitch was blamed for the delayed payments.
If the directors are convicted they face a maximum penalty of five years' imprisonment or fines of up to $300,000.
Last month, in a separate case, the Serious Fraud Office (SFO) laid criminal charges against Petricevic and Roest for allegedly using $1.8 million of investors money to purchase and maintain the operational costs of a luxury yacht, the Medici.
It was allegedly bought with Bridgecorp money but was owned by Poseidon, a company Petricevic directed and owned. The SFO also alleges Petricevic and Roest provided security for a loan to Poseidon.
Further fraud charges were filed against Petricevic for allegedly making fraudulent payments of $1.2 million to a consultancy business run by a personal associate Janita Wright, who was hired to provide marketing, database management and an after-hour call centre services.
The SFO claims the business was in essence a "sham" and the services provided were disproportionate to Wright's qualifications and expertise.
Petricevic and Roest are due in court on these charges on Monday.
Last month, SFO director Adam Feeley said there had been "extensive and exhaustive investigations" into the failure of Bridgecorp.
Bridgecorp collapsed in 2007 owing 14,500 investors almost $460 million.
Petricevic and Roest have been banned from directing or managing a company until 2014.